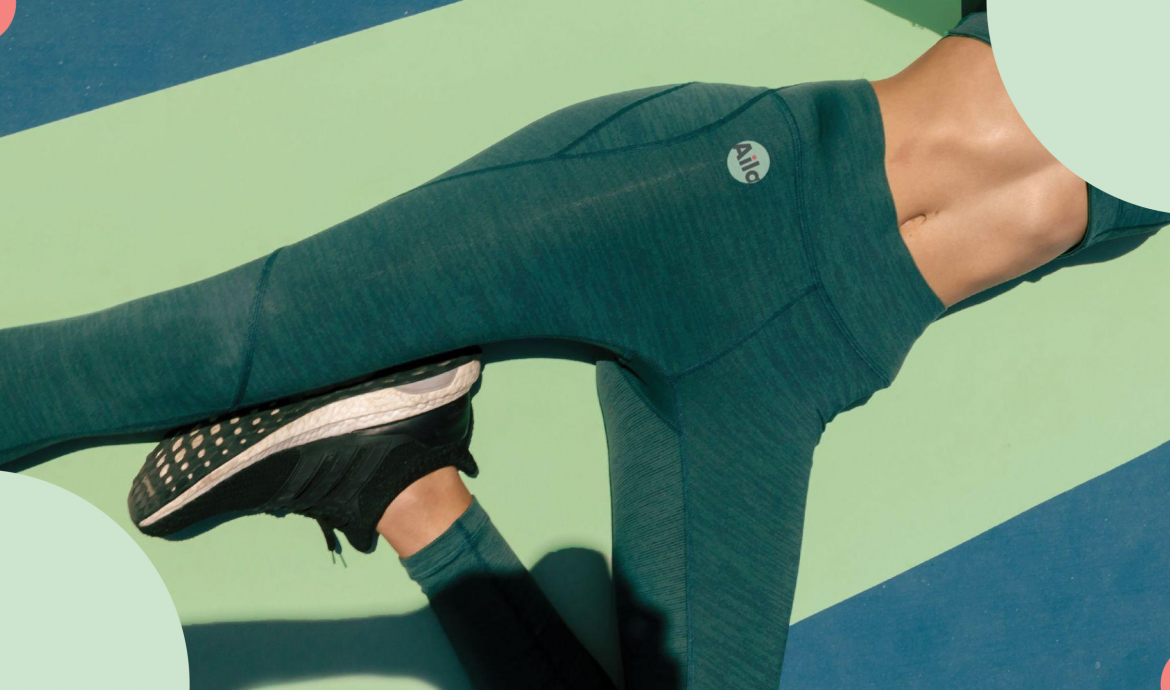 In 2022, I worked on the idea of creating a product and releasing it to the public. Writing a plan of the campaign, some content and general style. The results of the brand Aila can be found below.
THE PRODUCT
We are about to release a new type of tights. Our workout tights are not only beautiful and stylish to fit the fashionistas of today's society. Our true strength lies in our unique anti tear technology. This will stand out to our active user base that isn't only using the tights for active workouts, yoga, hikes, etc. but also use them day in day out to go shopping, go out or relax at home.
Before we will talk about the name of the product, slogan and some of the marketing texts I want to take you onto a journey through the competition, the target audience and more research.
THE MARKET
We aren't the first brand that releases tights so we need to look into who the competition is, what makes us different and how they are able to target their target audience.
The general demographic of the target audience and therefore the market is world wide very similar in brands, behavior and promotion. In general looking at the competition we can see that the brands all focus on the same target audience, but promote themselves uniquely. The target audience is female within the age group of 25 to 34. They are active, social and find the look of the product important. Later in this presentation I will breakdown our target
audience and give you an insight into a day in the life. For now let's look at the competition.
THE COMPETITION
Competition is fierce in the market of workout tights. The variety of established brands and quick up and coming brands really make this market a constant battle for the number one spot.
The market has been growing significantly in the last few years. The urge to get in better shape, be more healthy in what we eat and exercise became more important. The global pandemic of 2019-2020, however, people found themselves spending day after day at home, in sweatpants, and started looking for new ways to feel fashionable and pretty even at home and while working out. Research by Allied Market expected generated revenue for female
sportswear to reach a total of $184.6 billion worldwide.
It is expected that this will reach $248.1 billion by 2026. Never before has the market been this competitive and focused on active, comfortable, strong and beautiful looking, fitting and stylish workout tights. Our new workout tights will be competing with brands that have been out there for the last few years and have built a strong following:
Lululemon
Alo
Athleta
Gymshark
Outdoor Voice
Ododos
Under Armour
Adidas
Girlfriend Collective
Strongful (local within Israeli market)
All these brands are massive within the market, created their following and keep evolving over their collections. Let me highlight 3 brands in particular on how and why they are succeeding in the way they do.
LULULEMON
I would like to argue that there is no brand that understands the market as good as Lululemon. Their tagline "Yoga clothes & running gear for sweaty workouts" immediately describes what you need to know about their product. The products are stylish, great quality and marketed directly to their audience. Lululemon speaks to their target market by having fitness bloggers and fans spread the word on blogs, and more importantly social media. It created a strong social fan base and a community of brand ambassadors.
NIKE
For sure the biggest brand when it comes to overall workout gear. Their advertisement strategy compared to Lululemon is very different. Nike heavily relies on advertisements to promote their products. Think about billboards, commercials and online ads. Within those advertisements you will find high-profile athletes and celebrities. It fits the target audience as they want to be like them or trust the opinion of this certain celebrity when it comes to workout wear.
ALO
Athleisure is as booming as it can be and Alo really targets that market. Their social media presence is onpoint and they really know and reach their target audience. The brand and the product isn't only about the work out, but also about having a comfy leisure lifestyle for which the Alo tights are perfect. As they started out in the yoga industry and evolved to street wear, they always stayed true to their brand and audience.
THE TARGET AUDIENCE
Our target audience are females between the age of 25 and 34. The women that we target are strong, confident, self aware and always looking to self improve. They are active, healthy and know how to take care of themselves. Choose quality over quantity, which is where our super strong and anti tear technology will stand out to them. They like classy, clean designs that stand the test of time.
It is important to have a strong social media presence for this target audience. Have their favorite bloggers and influencers support the brand as these days the traditional way of advertising is shifting more to recommendations of people they trust. As a brand green, you need to be healthy and socially aware. This is really important to the target audience as well as fashion, looks and comfort.
In short our target audience is:
Female
Aged between 25 and 34
Employed and have a steady income
Are interested in a healthy, active and sustainable lifestyle
Their trust comes from influencers, social media and bloggers
So how does this target audience move about in life. Let's dive into a day in the life of our
target audience.
EMILY'S DAY
Emily is 27, single and wakes up every morning at 7.30. Laying in bed a little longer to check her socials and the influencers she follows. She gets ready for a busy day at work. As a marketer she is responsible for all the content on the company's website. Today she has a big press release and some final changes need to be done.
Her appearance is part of who she is. Emily dresses up every day in fine clothes that suit her well and wears nice jewelry and make up. Looking good means a lot to her and gives her that extra boost in confidence. Before she arrives at work, she quickly stops at her local juice bar for a cup of coffee and a freshly made smoothie for later in the day.
Attention to detail is important in her job and it asks a lot of her. Her manager didn't like a certain phrasing, but she stood her ground discussing why it would be perfect for the target audience at hand. For lunch she goes out with co-workers for a salad and some fun conversation. The launch of the product and her written content was a big success and it made her day. The manager even came back to her to congratulate her on a job well done.
Finishing her job at 18.00 she goes straight to yoga class. A small healthy snack on the way there and then changing into her workout outfit. The hour of yoga is for her the perfect way to stay fit and combine body and mind together in
exercising. She does go to the gym from time to time to lift some weights, but nothing comes close to feeling in control as an hour of yoga. On her way home she meets a friend for shopping before going home and sharing a dinner.
With her friend gone, she goes to the bathroom, changes into a pj and prepares for another day.
AILA
BRAND IDENTITY
Meet the new product line: Aila. Your new workout tights that are just as strong as you! The hunt for finding the perfect name was not an easy task. You want to speak to an audience and enhance them as much as you can. For example Greek, Roman and Norse goddesses like Bia, Vis, Freya and Nike have been used by brands as the brand name or model name. They symbolize a goddess of strength.
Aila also has a strong and powerful meaning. In Gaelic it means "from the strong place". Our target audience are strong women. Not only in strength, but also in confidence, health and what they believe in. In Finnish the name stands for bright light. The name has a bit of Scandinavian ring to it, which also stands out as quality, simplicity and endurability. Think about Volvo, IKEA, Lego and H&M. All brands that are famous for quality, integrity, enhancing the individual geniuses in us and the benefit of the use.
WE STAND FOR
Aila will enhance the women coming from a strong place, to make them feel comfortable, powerful and ready to tackle any workout or daily task without hassle. Aila stands for:
Strong
Active
Comfort
Superior
Green
The brand style is full of symbolism as well. The logo is bold and features three colors. A light green and red with the font being gray for a good readability. Green stands for nature, health, loyalty and harmony. Red stands for passion, action, energy, strength and love.
These keywords describe not only the colors, but also the targeted audience. The tone of voice for Aila is friendly and helpful. Our target audience needs to feel that a helpful friend is giving them advice instead of an intimidating expert or annoying salesman.
At the same time our tone of voice should be optimistic, motivating, casual, friendly with a promotional context. It's important not to be over-the-top when writing content:
Don't use tons of words when fever will do
Don't overcomplicate
Don't make it to technical
Don't overuse exclamation marks
Don't be to sales
Aila aims for
Casual but smart content
Be approachable and specific
Feel connecting to your readers
Slogan
Aita's slogan is straight to the point:
A MATCH FOR YOUR STRENGTH
It is a word play that has double meanings. Match in the sense of finding your equal but also in a fashionable way. The perfect match for every occasion. Strength is both the inner strength of the wearer and also the strength of these untearable tights.
FACEBOOK POST
Research shows us that an organic post on Facebook performs best with less than 50 characters. Posts with 80 characters or less receive 66% higher engagement. Therefore I opted for a short, straight to the point message. to promote our product. We established that our content needs to be cleverly written, not filled with tons of words and not too complicated. I came up with the following.
Meet Aila♡
Your pair of forever tights.
Untearable, comfortable and beautiful.
bitly.com/aila-collection
#aila
The post is casual, straight to the point and fits the way our target audience talks and reads. The heart emoji makes it personal as a friend that introduces you to something amazing. Once the first word is out about our new Aila tights we will follow up later that day with a slightly longer post:
Meet Aila♡
Your new forever tights.
Equipped with the newest anti-tear technology, this beautiful pair is made to last.
Gym, street or home, this is your new best friend.
bitly.com/aila-collection
#aila
NEWSLETTER
To promote the product also to our existing community we are releasing a small newsletter. The goal is to motivate our community to purchase the tights on our webstore.