Music royalty Bon Jovi made their return (after 19 years) to the legendary Wembley Stadium! Supporting their latest album called This House Is For Not For Sale, the band played a lot of old with some new material. For many reasons but for one personal and special it is a show to remember!
Manic Street Preachers 
Supporting Bon Jovi tonight were the very talented Manic Street Preachers. The band was formed back in 1986 in Wales. Famous for songs like Motorcycle Emptiness and If You Tolerate This Your Children Will Be Next, the band was so much more than a support band.
Starting with the hits
It was a great band to see live. The voice and musicianship sounded great, and they had some great songs. It however wasn't an easy gig for the band. Even though they opened their set with Motorcycle Emptiness, You Stole The Sun From My Heart and International Blue, they had to work hard to get the crowd going. I assume it was to do with the fact that most people that came only wanted Bon Jovi, because it surely wasn't the band. 
After a few mid-tempo songs, the band surprised with a cover of Guns N' Roses Sweet Child O' Mine. Vocalist and lead guitarist James Dean Bradfield showed throughout the show he is a talented musician. After a good show, I went on to listen more to the band and really dig their stuff.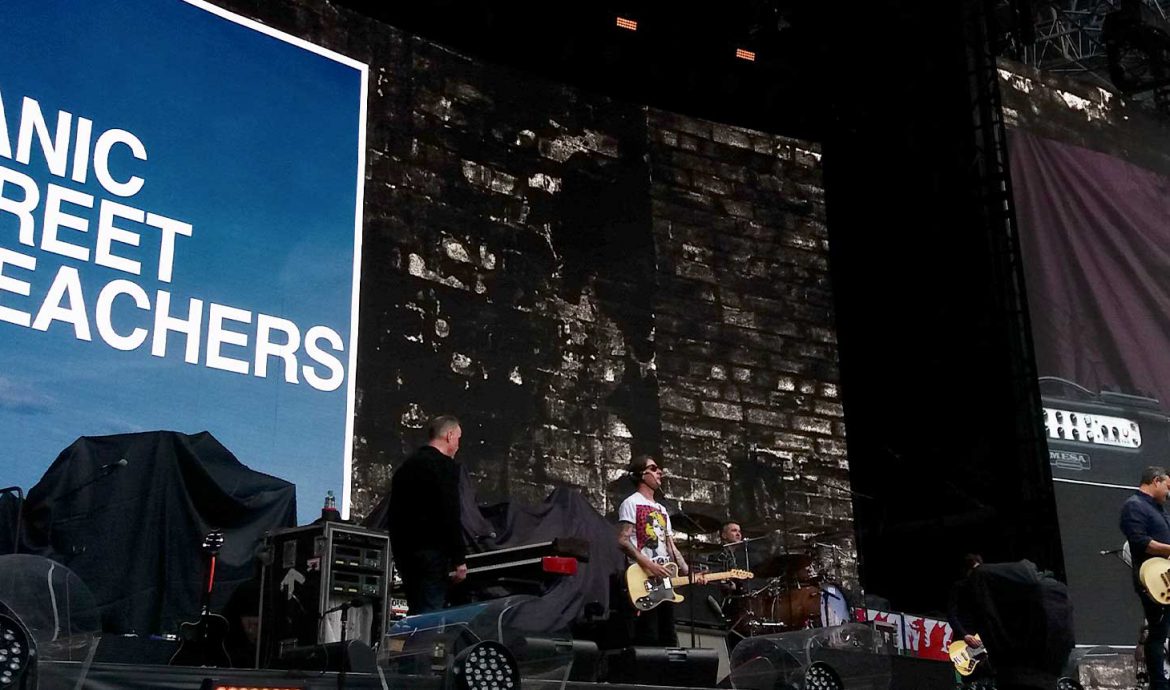 Bon Jovi
It has been 19 years since the last time Bon Jovi played Wembley Stadium. A few things have changed since the last time they played here. The hair of some members is a bit more grey, we see some new faces (although they have been in the band for years) and there are some new songs on the set. What didn't change is how the band can handle the big crowd that showed up on this night.
This stage is not for sale
As the riff of This House For Not Sale filled the stadium, it was time for Bon Jovi to hit the stage. Jon walked on, and the crowd went wild. Although his energy level is not as it was in the 1980s, he still has the crowd in the palm of his hands. Starting with the hit single of their latest record set the mark for the rest of the night.
The band sounded and looked great! After that it was time for some 80s hits with Raise Your Hands, You Give Love A Bad Name and Born To Be My Baby. As Jon made his way across the stage and gave nods and waves to the crowd, it really felt like being close to rock royalty. 
With Whole Lot Of Leavin' and Lost Highway, the band went back to the zero's performing some newer hits. Big visuals filled the screen as it switched from images of the band to airport hangers.
Classics
David Bryan on the keyboard introduced the next song, which goes back to 1984: Runaway. It is one of the few songs from the first two albums that Bon Jovi still play these days. We Weren't Born To Follow, Have A Nice Day and Keep The Faith kept the stream of classics going. Hugh McDonald on bass introduced Keep The Faith and the London crowd went wild.
The pace of the night slowed down a bit during Amen, with Jon's performance being very emotional in delivery. It is an underappreciated song which suits Jon's voice well. 
Goosebumps
When I go to concerts, I'm a fan of the band or at least enjoy their music. Bon Jovi has a special place in my heart, and it was a dream come true to see them live. Seeing Bed Of Roses live was just too much, and with goosebumps all over my arms and some small (but very manly) tears in my eyes, I was suddenly hugged by this cute girl. It is amazing how a concert makes you connect with people. Stay tuned till the end of this live review to know more about meeting this special girl.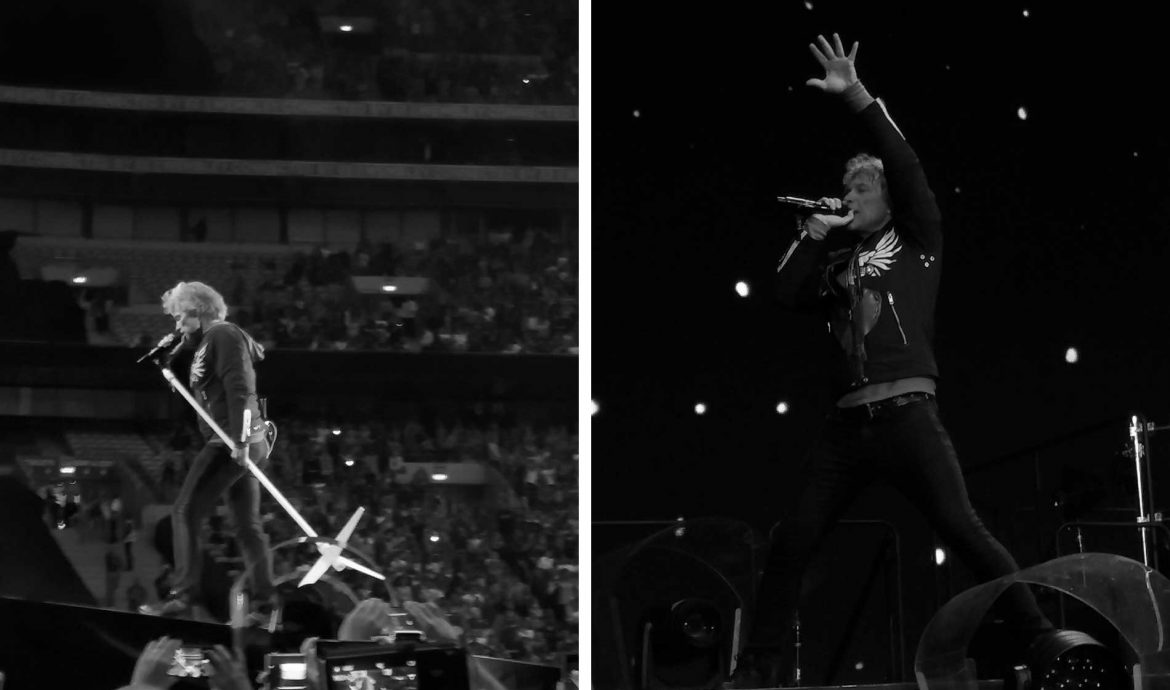 Here to stay
Fan favourites Blood On Blood and It's My Life followed. Joining Bon Jovi on guitar was John Shanks. Producer of multiple Bon Jovi albums and many other artists, he sure knows how to handle the guitar. Everett Bradly was on percussion and backing vocal duties. His big smile throughout the show was infectious, and it was great to watch him do his thing.
During the whole night, Tico Torres on the drums kept the pace going. Joining the band back in 1983, this power house drummer never misses a beat. We Don't Run is a song from the 2015 Burning Bridges album and sounds great live. Visually, it looked great on the big screens, with the lyrics displayed in a political way. It also shows that the band doesn't run away and are here to stay!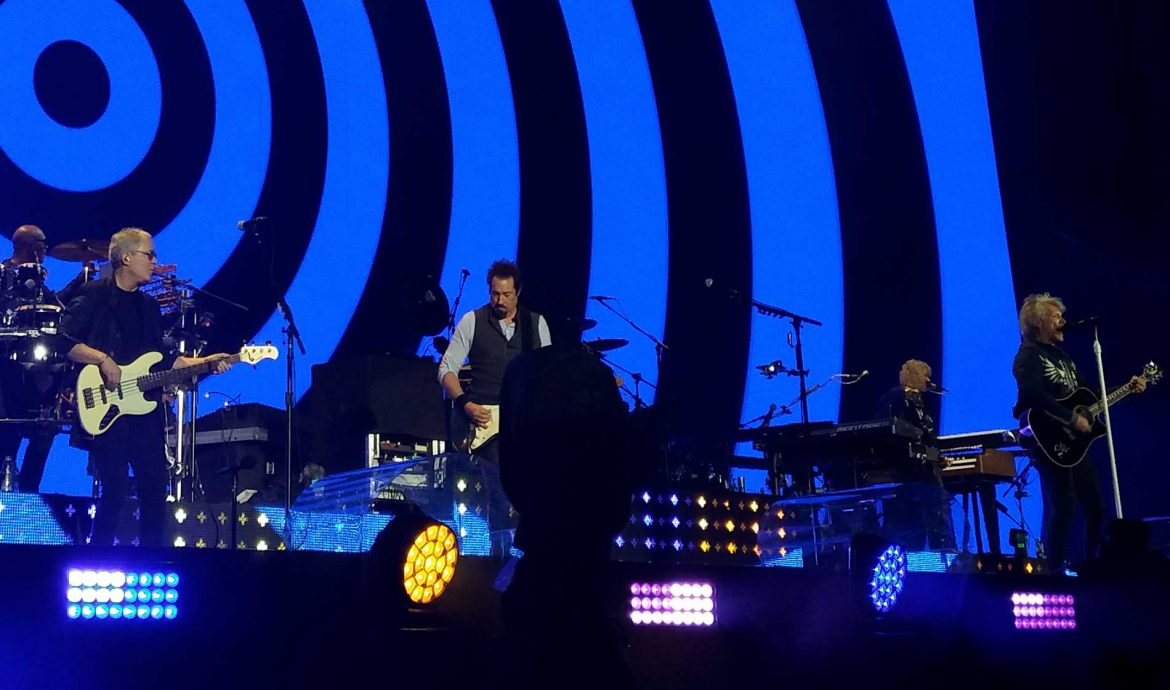 Wanted Dead or Alive
Phil X on the acoustic guitar started Wanted Dead or Alive. Arguably one of the bands' biggest songs. Jon joined the acoustic atmosphere with his own black acoustic. Vocals wise, you could hear the 57-year-old singer wasn't able to hit all the notes like he used to do, yet it sounded good. The musicianship within the band is on point. Phil X fits with ease within the band and gets the roaring approval from the crowd throughout the show. 
Lay Your Hands On Me followed up and showed some great visuals on the big screens. This upbeat song kinda set the tone for the last few songs of the main set. Captain Crash & Beauty Queen From Mars saw Jon, Phil, Hugh and John go onto the runway as the crowd waves their arms from left to right throughout the song. I'll Sleep When I'm Dead, and Bad Medicine closed the main set. 
Back on stage
Jon and the band made their way back to the stage for a special encore. Starting with Always, a song that isn't very common on the set list. The crowd got their phones out during this power ballad, and there was a beautiful sea of lights in the stadium. 
The obvious end of the show was Livin' On A Prayer. This rock classic got everyone up on their feet and singing their lungs out. It was a fitting end to a great show.
Review
The band is a true rock classic. The show is filled with the greatest hits and some lesser known songs. Although Jon doesn't reach all the high notes these days, he still got his on-stage charm. It was great to watch, and it is hard not to get lost during the songs. 
It is amazing to see how the band can transform the classics to the sound that fits both Jon's voice, but also their latest studio releases. I can only say that Bon Jovi and the Manic Street Preachers really rocked this sunny day in late June.
Set list Bon Jovi
This House Is Not for Sale
Raise Your Hands
You Give Love a Bad Name
Born to Be My Baby
Whole Lot of Leavin'
Lost Highway
Runaway
We Weren't Born to Follow
Have a Nice Day
Keep the Faith
Amen
Bed of Roses
Blood on Blood
It's My Life
We Don't Run
Wanted Dead or Alive
Lay Your Hands on Me
Captain Crash & the Beauty Queen From Mars
I'll Sleep When I'm Dead
Bad Medicine
Always
Livin' on a Prayer
Later update: special memories
So after being hugged by this cute girl during Bed Of Roses we went out for a beer and kissed. To cut a long story short, it was the night my girlfriend Aviya and I got together. An Israeli girl and a Dutch guy meet in Great Britain during a concert of an American band and fall in love with each other. A night to remember.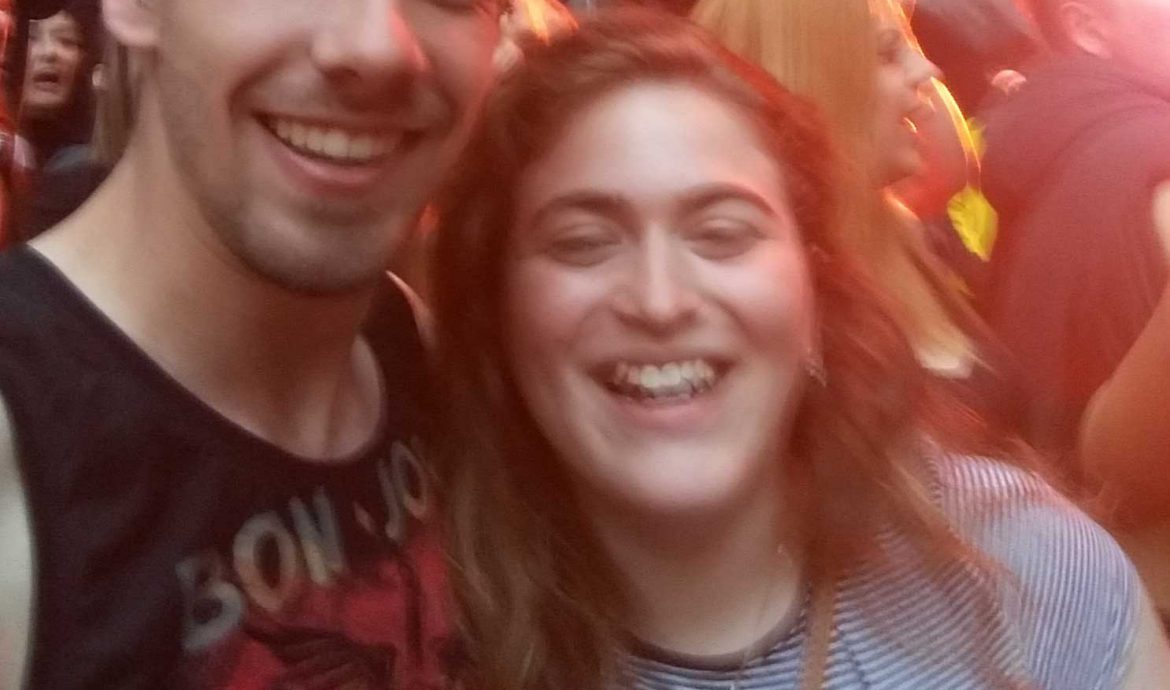 Yeah I, will love you, baby
Always and I'll be there
Forever and a day, always
More concert reviews
Read all the concert reviews here!