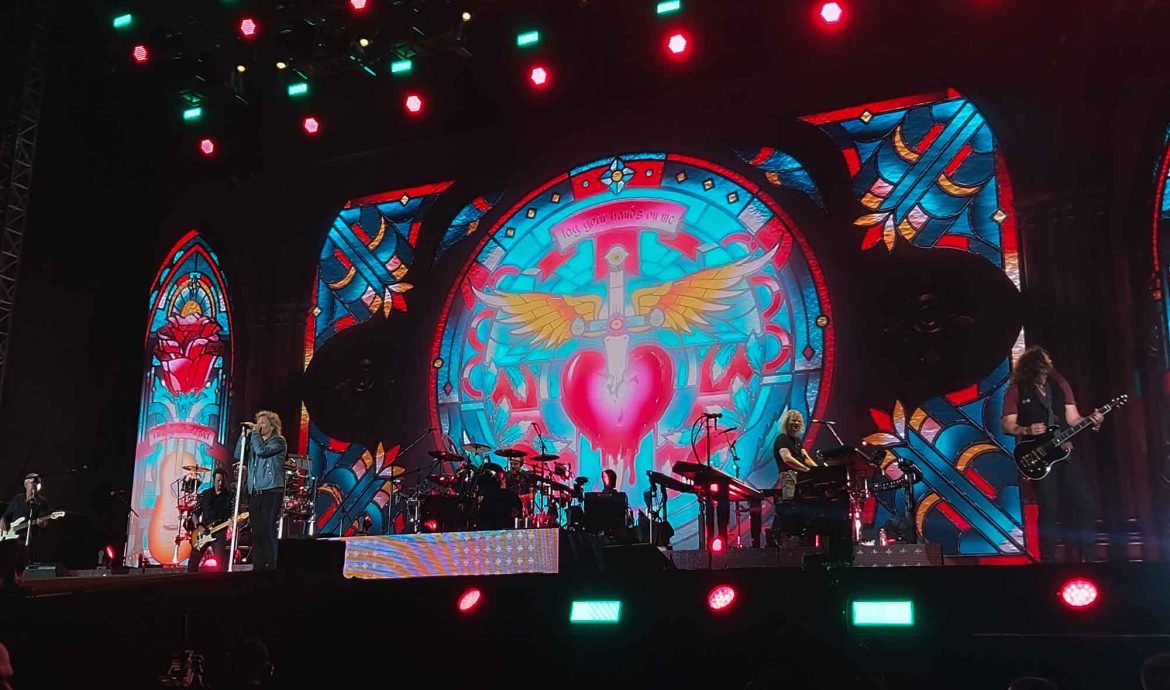 Just a little over a month ago, I saw Bon Jovi live in London. Tonight I saw Bon Jovi for the second time in my life, and on a different continent. Over 45,000 people rocked out during a hot, but exciting show!
SUPPORT
I was doubting if I wanted to write about the support acts of this night. It was my first time in Israel, and I wasn't ready for it. Let's start with the positive, from the three support acts, Omer Netzer was great. This Israeli country artist performs in English and had a great set. I would recommend checking him out! The country vibe feels authentic and the musicianship and talent is there. The only complaint was that the set was too short.
The other 2 support acts can be discussed in just a few words. Tal Friedman is a comedian, that can't sing, that did covers and comedy songs in Hebrew. Not speaking the language doesn't help, but hearing a dying cat scream, wasn't what I signed up for. Synergia is an Israeli rock band that felt between a mixture of Linkin Park meets Backstreet Boys. Personally, not my cup of tea, and the London support with Maniac Street Preachers was much better.
BON JOVI
Rock royalty Bon Jovi returned to Israel for the second time for another spectacular show. In the park under the watchful eye of 45,000 people, the American band performed all the hits. Although it was boiling hot, Jon Bon Jovi didn't want to take off his jacket. It was a nice jacket featuring the bands' logo, but still with 30+ degrees Celsius, I would have opted for a different wardrobe.
The show started with the song on which the tour is based: This House Is Not For Sale. I have seen a lot of hate for this song, but I don't think it deserves that, it is a great song that truly suits the repertoire of the band. Born To Be My Baby followed up before Jon spoke to the crowd for the first time this night.
Honestly, it shows how much Jon enjoyed this show, as in London he barely spoke, compared to Israel. Although: "Well, good evening, Tel Aviv. I told you we'd be back. We have a lot of catching up to do. I'm not going to do a lot of talking." suggests he rarely spoke, it felt more.
Tonight saw all the hits pass by from the
Slippery When Wet
and
New Jersey
. Crowd favourites like
You Give Love A Bad Name
and
It's My Life
made the crowd go into a frenzy. The atmosphere was amazing and during Bed of Roses Jon went up close and personal with the crowd standing on the barrier.
We Don't Run was dedicated to the people of Israel and to me, it was one of my favorites of the night. The whole band sounded great tonight. David Bryan and Tico Torres have been with the band since the start and are together with Jon the core of the band (yeah it isn't just Jon).
Hugh McDonald and Everett Bradley provided bass, drum and backing vocals, with guitar duo John Shanks and Phil X shared guitar duties. Personally, I'm a big fan of Phil X, and it was great to see him come up and close to us on several occasions. Jon might not be able to hit the high notes like he did back in the 80s, he sounded better than in London. The charisma of the whole band proves why they continue to be one of the best shows around.
After nearly 3 hours, the show came to an end with the classics Always and Livin' On A Prayer. It was the perfect ending to an incredible night.
INCREDIBLE NIGHT
Personally, I think Bon Jovi tonight was on fire. The memories of London are much more special, but when we look at quality, tonight was better. Jon seems to love Israel, and the affectionate smile was visible throughout the show. His voice sounded better, and the band was as tight as ever. The European leg of the This House Is Not For Sale Tour ended on a high, and tonight showed that the band isn't stopping anytime soon.
I'm absolutely over the moon to be able to see this show and to share it with the person I met in London. We walked away with the setlist and memories that will last a lifetime.