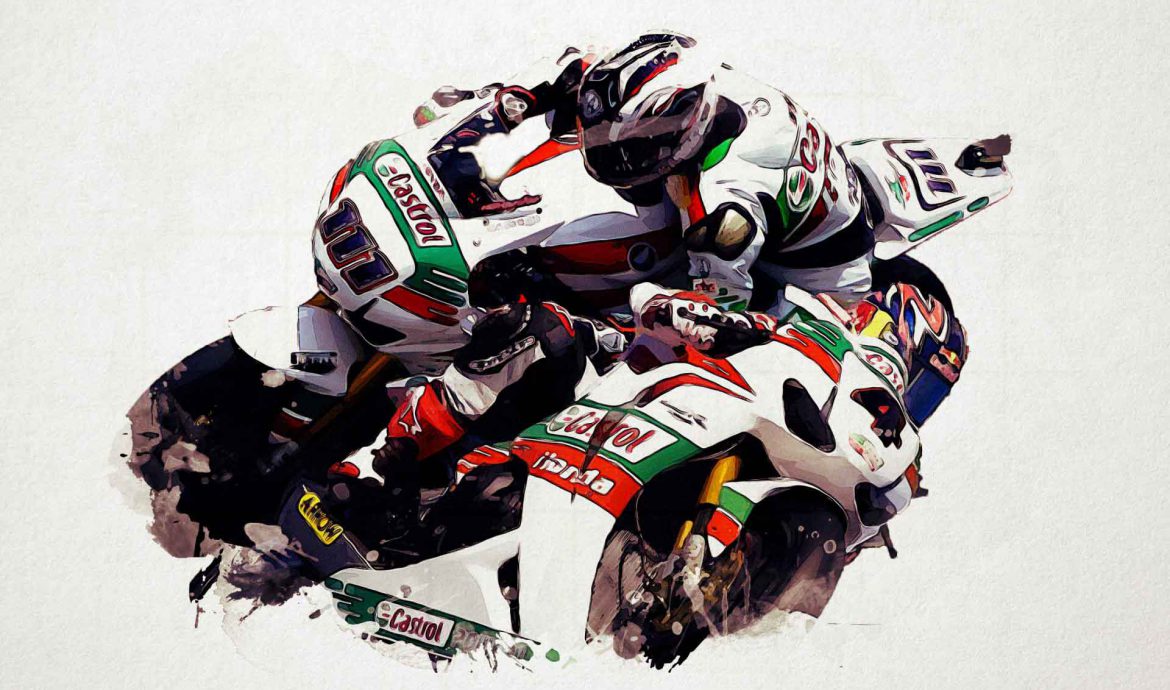 In motorsport, there are a few legendary liveries that everyone will always remember. When the Ten Kate Honda squad teamed up with Castrol as title sponsor for the 2011 World Superbike season it marked the return of an iconic livery. 
PITSTOPDAG TEN KATE
The 2011 World Superbike season has been underway for 2 races and the Castrol Honda squad had so far some mixed results. Jonathan Rea remained with the team for this year after having a great last season finishing 4th in the overall championship. 
However, the young Brit has a new and very experienced teammate for this year in the form of Ruben Xaus. I had the opportunity to talk to both riders during the team's open house day a week before the Dutch round.
JONATHAN REA
During the winter testing at Phillip Island, you made a quite strange crash. Your rear tire was on fire, you jumped off the bike at high-speed. How do you make such a decision, and do you think about it after it?
After the crash, I didn't think about it. What I can remember is that something came on fire in my engine, and it was putting oil on my rear tire and in the corner I had a big slide, because there was oil on my rear tire. It was the best option, but it was quite scary.  
During the race at Phillip Island, you were 12th and 4th. Are you at the end of the weekend satisfied over your classifications?  
Not the results no, but the riding yes. I had an injury but in race 1 I was fighting for the podium, but I went off the track and I finished 12th. In the second race I was 4th, and I was happy.
On Donington Park you were riding on your home track, how is it to drive for your own people, and how do your fans react to you?
To be honest, I don't think about it as my home race, I don't feel any pressure. But it is nice to go home and see everybody in the paddock who I have seen earlier before, my fans. There is no more pressure, I don't try harder, it is just the same, but there are more friendly faces around. 
Last year you had the double at Assen. What do you expect for next week?  
A very tough battle that's for sure with Biaggi, Checa, Melandri, Haslam and all the other riders. But we know the bike works OK at Assen and I like Assen, and hopefully we can repeat the past success.  
RUBEN XAUS
This year you are riding for a new team and a new bike. Was the change to this team difficult, or do you have from the first moment a good feeling about it?
Well, the last few years were very difficult. I stepped in a new project, with new people and a new bike. So that was very difficult, new situations every day. And that is very difficult for a rider, very difficult to figure it out. So, as you know, you have only 3 days in a weekend and only 6 hours of training. Is the weather ok, then is it all good but if the weather changes then are it very difficult for a rider. Since I met the Ten Kate Team, I have a comfortable feeling. The team knows a lot about the bike and from the first moment on we talk in the same direction. I am still getting used to working with them, and we had only two races.
How is cooperation with your new teammate? Do you help each other to make the bike so good as possible, or is it every man for himself? 
I try to cooperate as much as possible, and Jonathan does that too. But I am still getting used to the bike and the team. This winter was cold and wet, so we didn't test a lot. The first big test was Australia, a week before the first race. Jonathan is already four years on the bike, and I am only two months on the bike, so Jonathan is much more experienced than me. But when I get better classifications, we will work more together. 
During race 2 at Donington Park, you were fighting with Ayrton Badovini. He made the final pass in the last lap, that's why you were 10th. Are you disappointed about that, or do you think Badovini has done it well?  
Badovini has done it very well. Last year he was driving in the European Superstock on the BMW and this year he is stepping up. I was riding a good race 2, but unfortunately I pushed the last six laps too hard for my rear tire to approach Jonathan who was riding in front of me, but because my tire was finished, so I couldn't defend my position. I'm not really disappointed at this moment, but if this happens in September/ October (later in the season) I will be disappointed.    
Next week, you will drive on the home track of your team. Is that a big motivation to give even more than you normally do, because of all the fans of this team?
Of course, but I always liked Assen, I like the track, the atmosphere and the people. So yes it is a big motivation. I have a quick basic setup, and if the weather is good I hope that I can fight with the top.