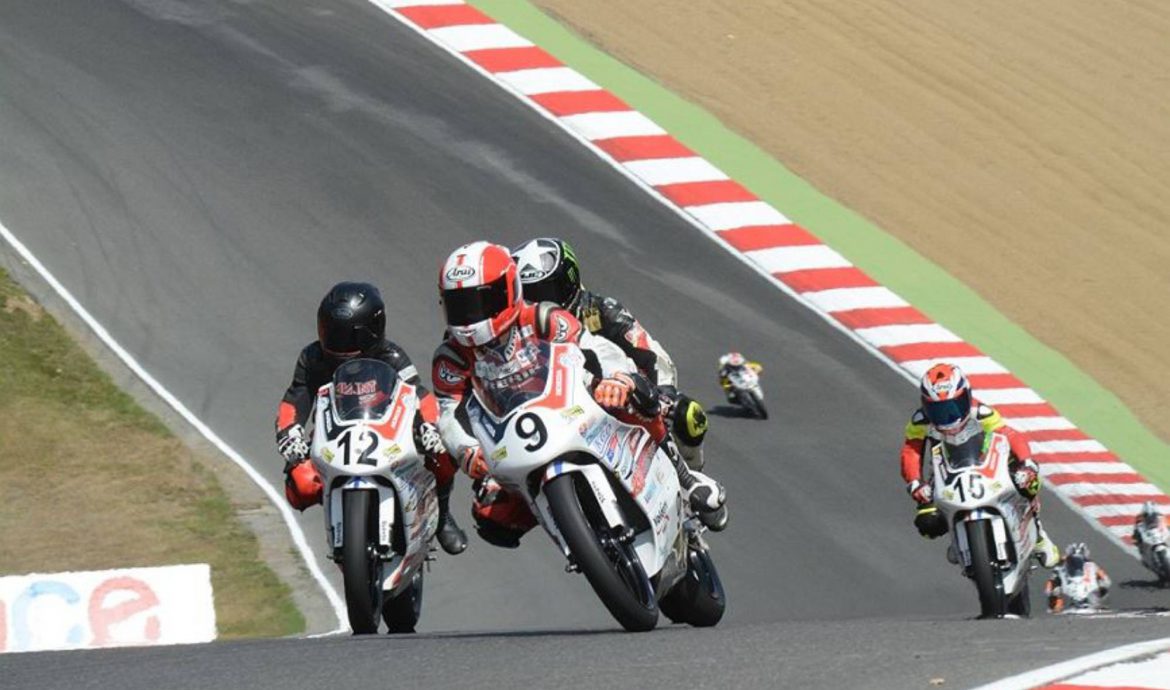 Leon Orgis was able to keep Thomas Strudwick and his brother at bay to grab a sensational win under blue skies at Brands Hatch.
The first Moriwaki race of the Brands Hatch GP weekend took place under perfect conditions. The 20 Moriwaki boys and girls started their race with a pole position for Victor Steeman. He was followed by Quentin Koers and wildcard rider Thomas Strudwick. Leader in the championship, Kevin Orgis had to start from a 7th position.
Steeman took the lead and kept it for 3 laps. Then Kevin Orgis took over, directly followed by his brother Leon, who took the second position. In lap 5 Strudwick managed to take the lead coming from a 5th position. A close and exiting battle developed between the Orgis brothers and wildcard rider Thomas Strudwick. After a numerous position changes, the three of them divided the podium places.
1. Leon Orgis #45 – GER
2. Thomas Strudwick #25 – GBR
3. Kevin Orgis #44 – GER
The trophies were presented by former GP and World Superbike rider
Troy
Corser
.
Pole sitter Victor Steeman finished on the 4th place. Quentin Koers unfortunately crashed in the 8th lap in an attempt to reach the front of the race, Carlos Tatay claimed a 5th place followed by Peetu Paavilainen and Brandon Paasch.
Sander Kroeze
,
Ruben Doorakkers
and
Meikon Kawakami
, battled for place 8 to 10 and ended the race in that order.
Selina Liebschner's
race ended in lap 4 with an unfortunate crash.