Our Top 6 things to do when visiting Disneyland Paris!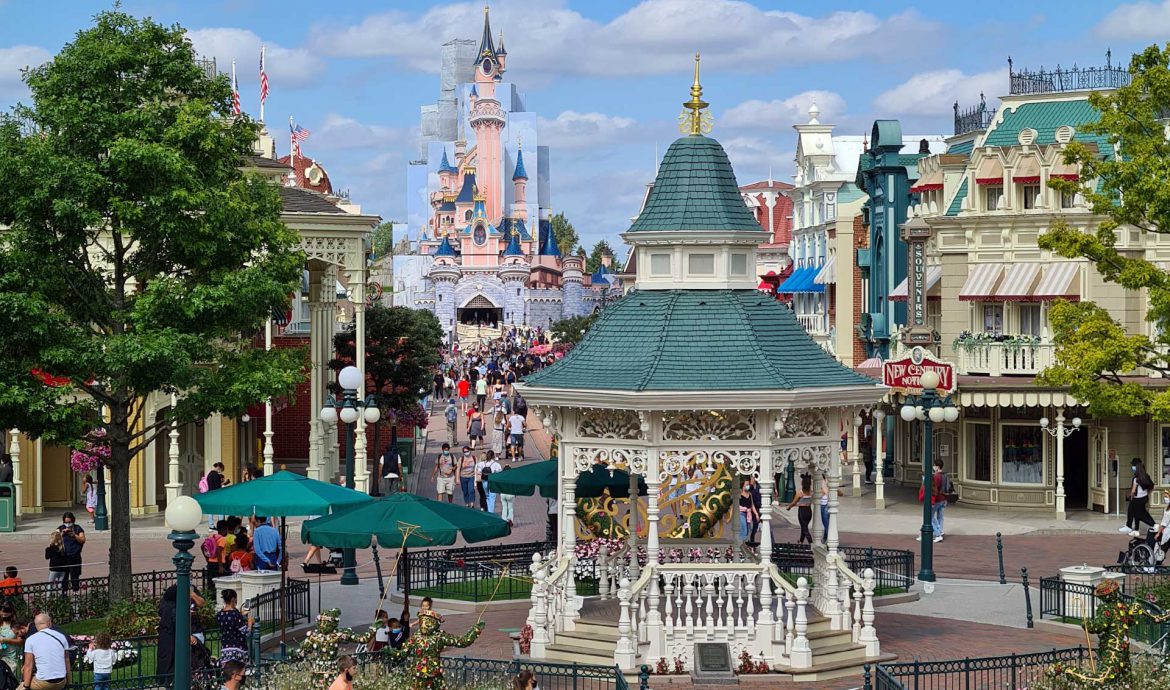 No matter if you grew up with the movies as a child or still let your inner child enjoy the latest releases: Disney has been a part to a certain degree in every once in a lifetime. Around the world, there are several Disney theme parks and the only one in Europe is in Paris, France. Join us as we show you our top 6 things to do, see and enjoy when visiting the happiest place in the world!
Our top 6
Not one, but two parks to explore!
At Disneyland Paris, you not only have the original park that opened back in 1992, but also the Walt Disney Studio Park. We bought tickets to visit both parks and both are amazing. Each is so different and style and walking around in the Parks just puts a smile on your face, no matter with rain, hail or sunshine.
Disneyland Paris
In the "original Disneyland Park", you have different sections that are all themed in a certain way. For example, you have Discoveryland, which focuses on future predictions and out of space. The futuristic elements look great, and you will find a lot of theming based around Star Wars. A highlight and must walk-through is the "Les Mystères du Nautilus" or in English the Mysteries of the Nautilus, a submarine based on the Jules Verne novels.
Frontierland is where the legends of the Wild West come true. Many of the theming in this land are focused on mining, the old west and haunted houses. Take a ride on the Molly Brown Steamboat on the river or visit the graveyard where someone is still knocking on its tomb to get out.
Fantasyland is the happiest of the entire park and home of Sleeping Beauty Castle. It is the place where all the boys and girls will feel like princes, princesses or true queen in the case of Aviya. It is the spot to re-awaken your childhood! All the rides and theming is based around the different storybooks and movies that are such a big part of Disney. Walk around the Mad Hatters maze or look at all the charming different European building styles of the shops and restaurants. This was Aviya's favourite part of the park, as it felt like walking into a classic Disney movie with all the little houses and colours.
In Mainstreet USA you will find all the bigger shops and food places in the park. Walking around here really feels like being in the 1900s America and the amount of details, sounds and smells are amazing. Just walk through all the different shops and pick up old phones to listen in on the funniest and weirdest conversations. Walk past the dentist, and you will hear the drill mistreating a patient and step a board on the old vehicles while you make your way to the castle.
My personal favourite land is Adventureland. My favourite attractions can't be found here, but just the amount of theming, walk-throughs and adventures are worth spending a lot of time here. Go visit the Pirate ships and skull caves, the tree house of the Swiss family Robinson or visit the magical Agrabah city. A must-visit!
Walt Disney Studio Park
You might have guessed it from the name, but in this separate theme park you enter the world of light, camera and action: Hollywood! The park is all-themed to the Hollywood scene, with backdrops, fake facades, Mickey shaped water tower and of course backlots. In this park, it feels like you step inside the magic of your favourite Pixar movies. Every ride has its own theming that can be found in and around the rides. Step inside Paris when you enter the world of Ratatouille, or feel like a toy in Toy Story land. 
Throughout the park, you can find great photo opportunities with the different "props" from Disney Pixar movies. Also take your time to learn to draw Disney characters at the Art of Disney! Although the park currently sees a lot of construction for the new Avengers part, it is still a must-visit!
Some of the best rides in the world
Where to start. Both parks have amazing rides for all the families. For the thrill seekers there is Big Thunder Mountain, Hyperspace Mountain, Phantom Manor or the Hollywood Tower Hotel. Then there are rides like Pirates of the Caribbean, Ratatouille or Buzz Lightyear Laser Blast which are fun for all the family. 
Let's not forget the classics like Snow White, Peter Pan, It's A Small World and Autopia. Basically, it is too much to sum up, but here are our top picks for the best rides in Disneyland Paris:
Aviya's picks
Big Thunder Mountain

Hyperspace Mountain

Pirates of the Caribbean

Crush's Coaster

Peter Pan's Flight

Indiana Jones and the Temple of Peril
Emiel's Picks
Big Thunder Mountain

Hyperspace Mountain

Buzz Lightyear Laser Blast

Pirates of the Caribbean

Crush's Coaster

Phantom Manor
I mentioned earlier that the theming within Disneyland Paris is incredible. Every piece of the park looks incredible and although the different styles it all fits together. The same counts for all the rides. On Big Thunder Mountain you feel you are in a mine card on the hunt for gold in America. During the ride you are busy seeing all the little hidden details and enjoy it as much as possible. Safe to say, we did this ride many times.
But it counts for all the rides. Due to the darkness at Hyperspace Mountains, all the video screens and effects you feel you are chasing, and being chased in the Star Wars universe. It's a thrilling roller coaster that really gets the blood flowing!
And that goes for every single ride! Honestly, I can write for hours about it, but let's save that for another day. Just go and discover for yourself why we love all these rides!
Meet the characters
Disney is all about the characters! When we entered the park and walked onto Mainstreet USA, all of our favourite characters were standing on the train station waving to the incoming guests. It was a great opportunity to snap pictures of Mickey, Minnie, Pluto, Goofy and Chip & Dale. 
Then throughout the park, you can take selfies with the different characters as well. We saw Donald Duck out taking pictures, as well as Jack Skellington and many more. Due to Covid, you are having your meet & greets from a bit more distance than usual, but that doesn't spoil the magic. Masks can be removed for outdoor pictures, but when inside a mask is mandatory. 
Next to just the spots in the park there are also complete rooms and theatres where you can meet your favourite princesses, Star Wars characters or park mascot Mickey Mouse. During our 3 days, we took just a few pictures with Mickey, Winnie the Pooh, Donald Duck, Goofy and some Storm Troopers.
Even as an adult, it is fun to interact with the characters, and I would highly recommend taking at least a few selfies!
Grab some typical (and non typical) Disney bites
All that walking in the parks will make you hungry. Luckily, Disneyland is there to help you out. There are a few food courts that offer burgers, pasta, pizza and much more. These places don't require a reservation, but try to have an early lunch or dinner, as it can get very busy during the lunch and dinner hours. In Discoveryland we sat down in Café Hyperion and had a very tasty BB8 (Star Wars character) burger. Next, I would recommend Casey's Corner for an incredible Chili Hot Dog! It was so good we recreated this chilli dog at home and the taste and flavours brought us right back to the Park.
If you are up for a more pricey meal, there are various restaurants throughout both parks where you can sit down for a real lunch/dinner experience. For example, sit down in the bay of Pirates of the Caribbean and enjoy a good meal in Captain's Jack restaurant. Or try ratatouille in Bistrot Chez Rémy in the Studio park. Download the Disneyland Paris app or go to their website to see the menu and make reservations.
Disney Village
Just a stone throw away from both of the Disney parks, you will find the Disney Village. Here you can find more of the chain restaurants like for example Planet Hollywood, Starbucks, Five Guys and the Earl of Sandwich. The restaurants are typically busy at night as the crowds from the parks enter the village, but that means there is a nice atmosphere hanging there. 
Also, here you can find more stores including the Disney Store, Lego store and of course another Disney store. The Disney Village is a nice area to just hang around, grab a bite and a drink before leaving home or the hotel.
Shopping
I said it before, and I will say it again: just walk around the park, go into every shop and see all the different items. We have been spending several hours walking in all the different shops across both parks. Every part of the park also has different items and theming inside the shop, which keeps it interesting to look at. On the last day, we were able to recognize all the new items that we hadn't seen before. Some stores that are definitely worth a visit: the Christmas store in the castle, La Chaumiere des Sept Nains and Thunder Mesa Mercantile Building.
A pro-tip: set a budget for yourself. Once in Disneyland Paris, it will be tough sometimes not to buy everything you see. But let's be honest, do we really need a pencil with Goofy stuck on it? Well in hindsight I do regret not buying that item… But you get the point. In the end, I set myself a budget and was able to pretty much stick to it. Don't worry, we bought enough sweaters, mugs, Christmas decoration and magnets to remember this incredible trip!
Sleep in a Disney hotel
What better way to start, or end, a day in Disney hotel. Let the magic start from the second you walk in. We stayed in the Newport Bay Club, and we absolutely loved our stay here. The hotel has this nice atmosphere and decor of a fancy yacht club. Every night when we came back from the park we were welcomed by either Donald, Mickey or Minnie who were all dressed up for the sailing occasion. 
The room was spacious, had a life-saving bath, and you could watch a couple of classic Disney movies on the TV. We opted to go to the Captain's Quarters for a nice drink to finish our nights before all doing it again in the morning.
Staying in a Disney hotel just keeps the magic going after a great day in the park. Our room had some subtle theming that included some of our favourite characters on the wall. Disney has several hotels near the parks that you can walk too. Luckily, there is also a shuttle bus that makes this trip even easier. The bus drives every quarter from I believe 6 to 23. 
What do you think?
So those are our favourite things to do when going to Disneyland Paris! Did we miss something you love doing in Disneyland Paris? Please let us know! We hope you enjoyed this blog and let us know what your favourite ride in the parks is.