Monty Python legend John Cleese, still paying for his last divorce, decided to embark on one last tour before he dies. Prepare yourself for a night of dark comedy, hilarious anecdotes and old videos of a time where everything was still allowed to be funny.
JOHN CLEESE
The English-born John Cleese is an actor, comedian, screenwriter and producer. As being one of the co-founders of Monty Pythton he found great success. Along with his Monty Python co-stars Terry Gilliam, Eric Idle, Terry Jones, Michael Palin and Graham Chapman, he found international stardom. TV series, movies, including personal favorite Monty Python and the Holy Grail, and theatre shows became cult classics that are still being watched my millions today.
But Cleese isn't only (in)famous for being a Python. With Fawlty Towers he found a new direction of his comedy together with then wife Connie Booth. With the main character Basil, Cleese took the number 2 spot in the 100 greatest TV characters. Other work of Cleese includes A Fish Called Wanda and is numerous books. His quick wit, satire, black comedy combined with sketches made him a legend and icon for many generations.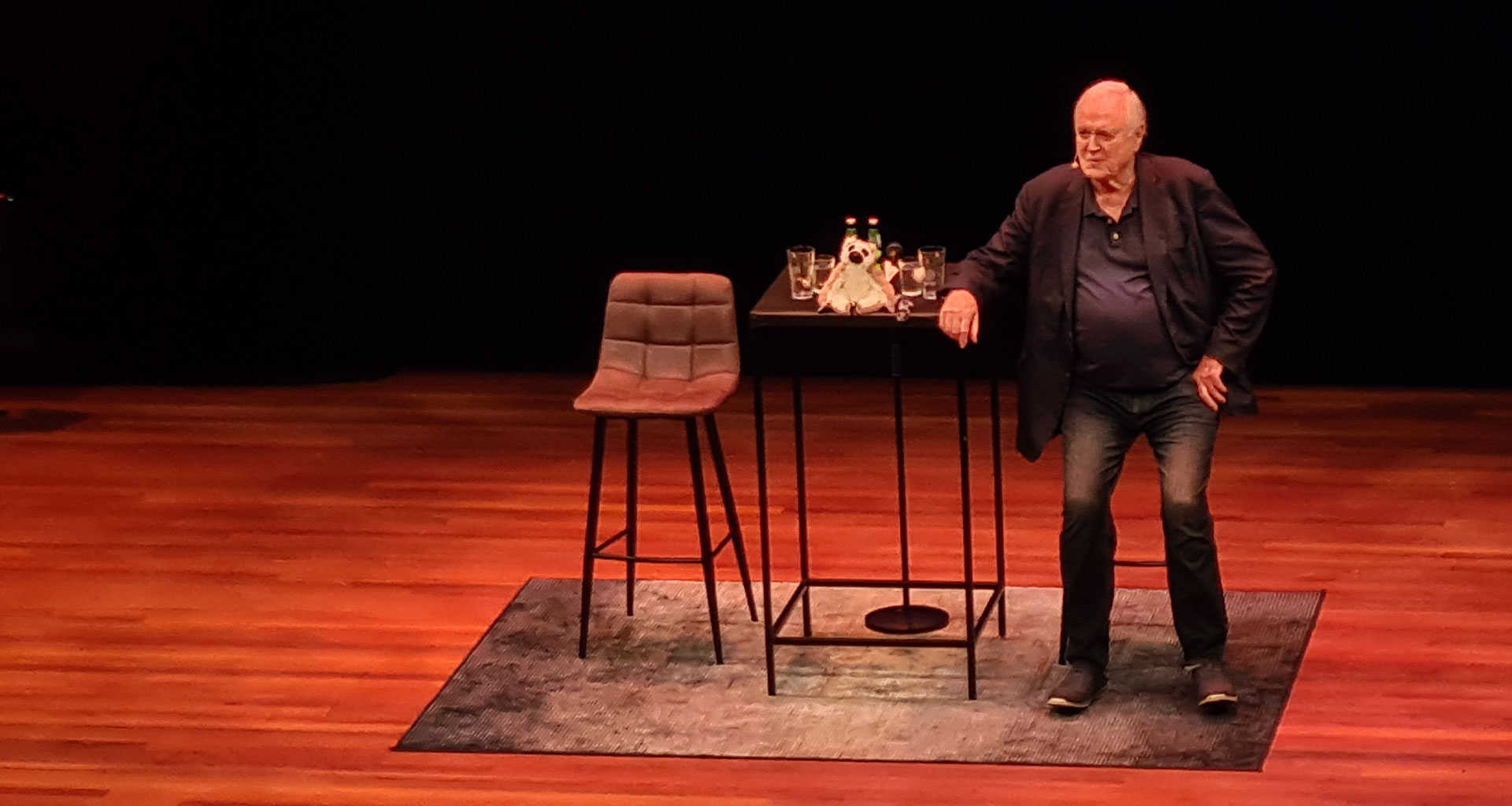 NOSTALGIC AND RELEVANCE
Perhaps some people would wonder if an 83-year-old can still make jokes that would be relevant to today's society. The answer is a firm yes, John Cleese hasn't lost his wit at all. For the Monty Python legend, black humor is the healing power of society. During this almost 2 hour show, you won't only hear the old stories of how Monty Python and Fawlty Towers came to be. No, in tonight's show you will hear personal anecdotes of life, hotels, his mom, his partners and a lot more. Accompanied by videos from the different sketches and movie clips from over the years.
For Cleese there are no sacred houses and humor provides an unctuous effect. By not making a topic taboo, the Python created a place everything can be made into a joke. But by Cleese his words it still needs to be with the right intent. Cleese's timing is phenomenal, and he manages to get the laughter's throughout the entirety of the show. It was an honour to see this iconic and legendary comedian do the thing he does best: making people laugh. The tour suggested it would be The Last Time You See Me Before I Die. But part of me hopes Cleese keeps going!
Read all my blogs and concert reviews here!