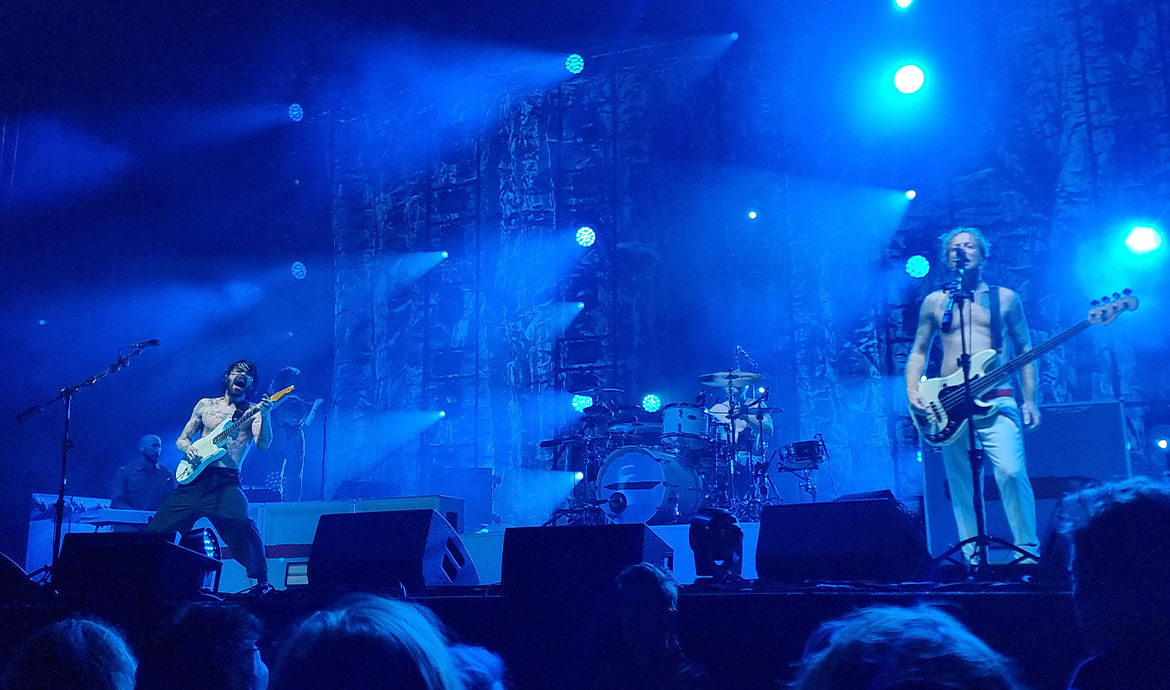 Scottish rock band Biffy Clyro brought their explosive show to the AFAS Live in Amsterdam. Together with support band De Staat the crowd was blown off their feet for one incredible show.

DE STAAT
The Dutch band De Staat has been warming up crowds around Europe as support for Biffy Clyro. Around Europe, the band gathered a huge following, but perhaps none as big as in their home country. From the second the band entered the stage, the crowd went wild, with mosh pits happening all around us.
Their genre-bending rock pushes boundaries, from hard rock to more dance and synth driven. Combine that in a live show like no other, and you see yourself smile and dance throughout their 45-minute-long set list.
Highlights from their set included Peptalk, Who's Gonna Be the GOAT?, and Head On The Block. The stage presence of De Staat is unique. In clothes, characters and performance. Their electric set ended with more dancing and mosh pits with their biggest song, Witch Doctor. The crowd loved seeing some Dutch action before the Scots would make their way to the stage. I honestly loved seeing De Staat live and would highly recommend you to check them out!
BIFFY CLYRO
Before the show, I appreciated some of the songs of the band. My partner is a massive fan, so I surprised her with tickets to the show. With very little expectation, I walked out of the show as a big fan. The Scottish trio of Simon Neil, Ben Johnston and James Johnston shook the AFAS Live to the ground.
The band was joined throughout the show by rhythm guitar, keyboards and two violins. It gave a very impressive depth to the hard rocking show. As the band is touring with their latest album A Celebration Of Endings, tonight's show included the hits, deeper cuts and new material.
A captivating light show and visuals kept the fans intrigued from the first to the very last note of the show. The crowd of 6000 people was jumping, dancing and once again mosh-pitting throughout the show. DumDum and A Hunger In Your Heart kicked off the show, with the hits like Black Chandelier bringing an extra layer of excitement to the show.
Personal highlights of the show were the live versions of Tiny Indoor Fireworks, Instant History, Wolves of Winter and Re-Arrange. The latter saw Simon performing the song alone on stage, which made it feel very intimate.
Other songs in the set came from albums like The Myth Of The Happily Ever After, Ellipsis, Puzzle and Opposites. Tonight's show ended with the incredible and with arguably their biggest hit, Many Of Horror. It was the perfect ending of a show that created instant history.
Read more reviews here!