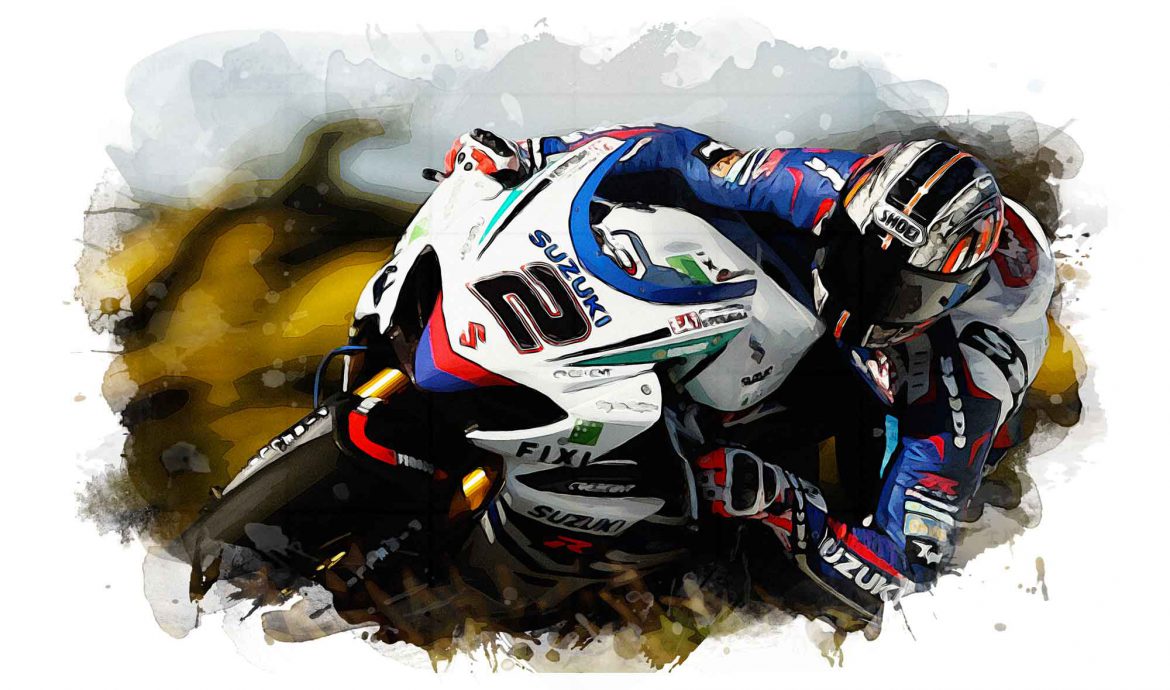 Sitting outside the Cresent Suzuki pit box, on the TT Circuit in Assen, was Leon Camier ready to be interviewed by a 17-year-old kid. That kid is me, and it feels actually surreal to have all these interviews with these incredible motorcycle racers I have been looking up to growing up. 

LEON CAMIER
Leon Camier is a British motorcycle racer who started out from a young age. Flying through the different national championships as a champion each time, before making his full time World Superbike debut in 2010. His talent was proven from the start, grabbing several podiums in this first two seasons.
After two seasons with Aprilia, Camier made the step to Suzuki in 2012. The start has been difficult, but knowing the sheer talent of this rider, we know he will be fighting at the front within no time. It was an absolute blast to interview Leon Camier before the race weekend on Assen. He was super nice, and we had a great talk which resulted in an amazing interview. I hope you enjoy reading it as much as I was writing it.
INTERVIEW
You won titles in both the British Supersport and Superbike, but what was your start in racing like?
I started racing when I was 6 years old. My dad used to ride, and he was a quite successful grass track racer. This gave us the option to do it as well. So when I was young, I started in the Junior Grass Track championship, winning 5 titles in the years that followed. I was the youngest to win all those crowns.
Then, when I was 11 or 12 years, I switched to road racing. I won again in my first year, becoming once again the youngest to win. And then we went to 125cc racing, winning the British 125cc title as the youngest rider. Being the youngest is a something that followed me in the years after. We went to the British Supersport winning as youngest as well, and then the Superbike (youngest). There is no British title I didn't win.
Let's have a look back at a very unfortunate moment. Can you please talk us through it?
I'll never do that again, that way, that's for sure. I was battling with Johnny Rea, but I gave too much gas to the top of the mountain. The rear comes down too quick and then the front landed sideways. I was being shot off and had a hard fall.
Let's talk about your time in the World Superbikes. You rode 2 years for Aprilia, how was that bike, and what is a personal highlight from that time?
I think my best race was the English round of Silverstone. I was third in race 2 so that was a great result in my home race. The Aprilia was quite a… a lot of plans didn't work out. There were quite a lot of politics that caused some issues. It were 2 pretty frustrating years and I never thought we had the best package. It wasn't a good situation.
This year, you made the switch to Suzuki. It hasn't been the start you were aiming for, how are those moments for you?
No, it has been actual horrific races so far. Just really, really bad. However, the bike has a lot of potential and the chassis is very good. That are definitely some positives. I'm happy how we work as a team and we do understand the difficulties. I think at the end of the season, we will be a lot stronger than we are now. We will work hard to keep improving.
With my teammate John Hopkins, we work hard on the development side. We want to beat each other on track as normal, but we work together to improve. At the end of each race we have a team briefing and we both share our thoughts and feelings about the bike and the things we have to improve.
You are a very tall rider. Doesn't it make it much more difficult to ride a bike?
It's not too bad. The Aprilia wasn't so small. We have extended the handle bars, for instance. Riding that bike length wise wasn't a problem. It actually was more of an issue with the Suzuki. My knees got stuck in the beginning, but we changed the bike, so it isn't a problem anymore.
What do you do in winter to keep fit?
Yeah, so training is a big part of my life outside of racing. I have a coach for training, and I cycle a lot, do a lot of gym work, enduro, etc. I do a lot of different exercise to keep fit.
Looking back, what has been your greatest racing moment?
That's a difficult question, as you are always looking for the next thing to do better. For sure, winning the 125cc championship was a great moment for me. But honestly I had some awesome moments that I can't pick really a moment. For example, getting a second place at my home track on the Honda was really special.
What do you think of Assen, and what is your favorite circuit?
Assen is definitely one of my favorite circuits. I had the fastest lap during the race last year. Maybe also Muggello, we tested there last year with Aprilia and that was an absolutely amazing racetrack.
Please end the sentence: "At the end of the year, I hope that I …"
Won a lot of races.