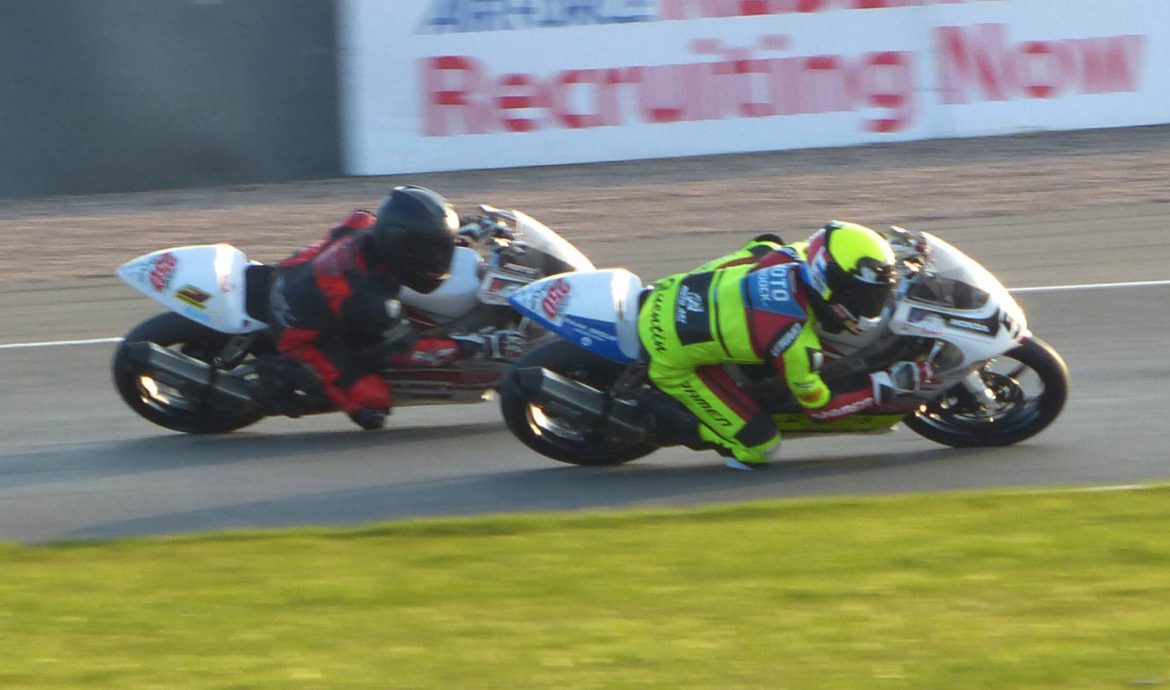 Peetu Paavilianen took a thrilling win at Donington Park, with Quentin Koers and Brandon Paasch completing the podium.
Qualifying
With the qualifying session that took place in the early morning, it was Peetu Paavilianen who took a sensational pole position. Kevin Orgis took second, with Quentin Koers completing the first row. In the afternoon, an exiting race would unfold with the top 3 in the spotlight.
RACE
At 6 o'clock it was time to start the race and it would be a typical thriller till the end of the race. Paavilianen took the lead straight away and was pushing lap after lap to get a small gap between him and the chasing pack. He was able to get away a bit. However a five man strong group was chasing him and the battle for victory was wide open again.
Peetu Paavilianen clinched his first podium in a thrilling battle, as Quentin Koers made several overtaking manoeuvres throughout the race. The outcome hung in the balance until the final corner and the run to the finish line, where Paavilianen emerged victorious with a mere 0.33-second lead over Koers.
However, while the battle of victory was decided the last podium spot was still wide open. For a long time the battle was between Kroeze, Kevin Orgis, Kawakami and Paasch. Coming in the last lap the overtaking took place on every inch of the track.
Fight all over the field
American wildcard rider
Brandon Paasch
took his first ever
Moriwaki 250 Junior Cup
podium followed by
Kawakami
,
Kevin
Orgis
and
Kroeze
. The trophies were handed by Ryuichi Kiyonari a three time British Superbike Champion!
Not only were the riders within the top 6 fiercely competing for their positions, but Mate Laszko and Leon Orgis engaged in an intense battle for the 7th spot. Ultimately, Laszko emerged victorious, edging out Orgis by a slim margin of 0.3 seconds. Meanwhile, Steeman secured 8th place, leading the pack ahead of Hart, Hilster, Franke, Faber, Sophia Liebschner, and Isaac van Dijk.
Selina Liebschner
had a small crash and wasn't able to finish the race. Thankfully,
Selina
is unharmed and ready to start racing again. British rider
Dan Jones
had his operation today after his horrible crash in yesterday's practice. We wish him a good recovery!
Tomorrow the racing action at Donington Park will begin at 11.10 UK time.
Moriwaki 250 Junior Cup, where racing begins!!