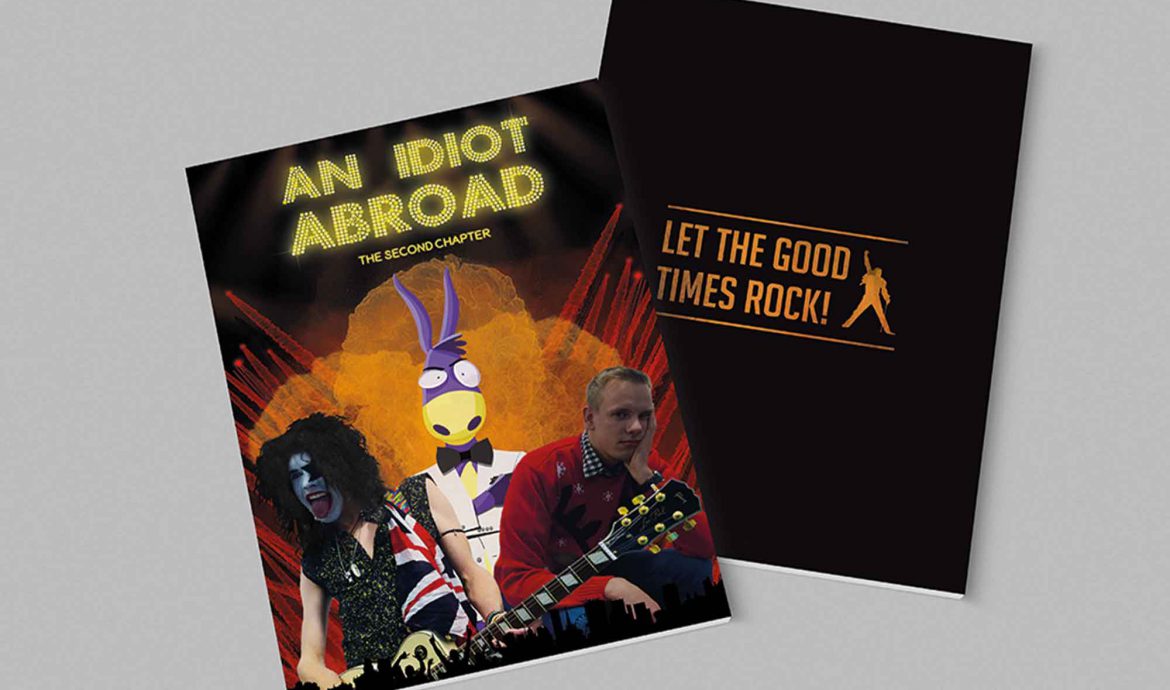 In 2015, I moved to the United Kingdom for an almost year long work placement. It was the experience of a lifetime, and this report is a testimony of this amazing time.
WORK PLACEMENT
When studying at Deltion College, the Netherlands, on the Graphic Design course, I had the opportunity to do two terms of work placement in Birmingham, United Kingdom. This work placement took place at the Adhere company. During this time I was able to learn a lot about design. I was fortunate enough to have an amazing time at and off work. In my report called "An Idiot Abroad" I showed my progress as a designer, some of the jobs I worked on and everything I did in my spare time.
Unfortunately the book is about 50 pages thick, so I'm not able to show everything, but I would like to quote some small bits of text to give an impression of what was going on.
IMAGES REPORT
Down below, you can find some images of the design of the book.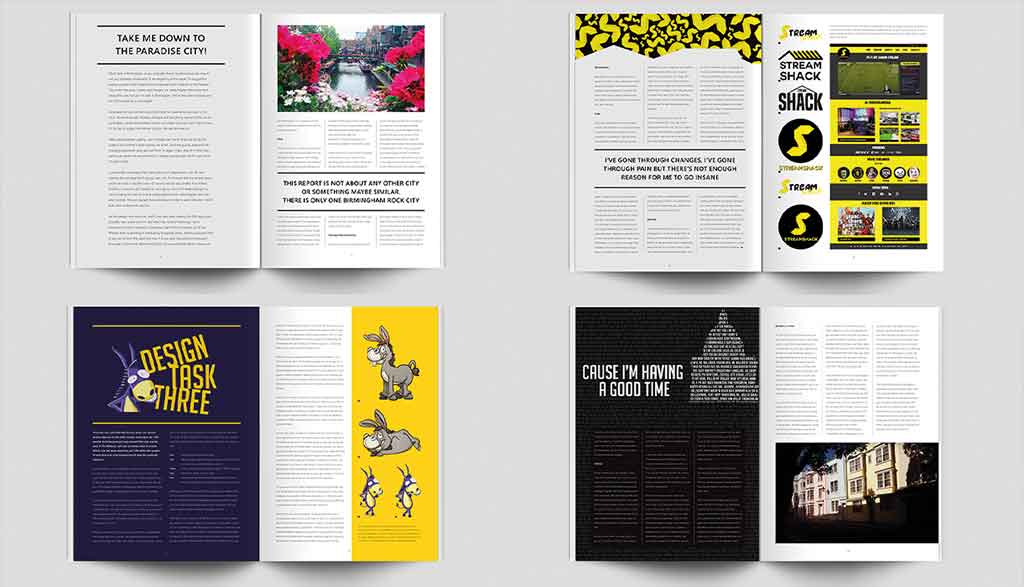 SMALL PIECES OF TEXT
Within the text, I loved to make small nods to the music I loved. That's why you will find throughout the text words in italics that refer to a specific song. In some ways, like with Olly Murs and Whitesnake it was also a personal touch as I saw those artists' life during my time in Birmingham.
Foreword
Birmingham, Did You Miss Me? Probably not, but hey, Here I Go Again! For those who are new to reading this book, I would like to give you a warm welcome to An Idiot Abroad, the second chapter, where you can follow my adventures in Birmingham, England. For the people who have been reading the first part, welcome back!
In August 2015 I came back to Birmingham for another 5 months of work placement at the same company called Adhere and staying at the same host family, Eric and Jenny. So what is changed? Well, not much really, but That's All Right With Me. Technically not much, but as you will find out in this book things changed drastically on work with having my own project and of course the loss of Jenny, my host. When I came back in August, it was clear things were not great with her, but I don't think anyone expected this.
As you probably have been figuring out by this paragraph, this report will contain a lot of words and sentences in an Italic font. The reason is simple: just as in the first report I made, I decided to give myself a bit of a challenge to sneak as many references to music, television series/films or any of my other interests in this report without making the sentence sound weird, it's like my little Treasure. So to you the honour of recognizing as many references as possible, but it isn't an easy job!
About the work place Adhere
This is the third and final task I'll write about. For several reasons, because it's the task I've been working on for a few months. In the beginning, it only looked if this task was far away in The Distance, but I was so excited when it arrived. Before I can tell more about the part I did within this project, I'll write first a bit of an introduction of what this particular website is.
PriceDropDonkey is a concept made by Adhere Creative. The main goal is to show the latest price drops and discounts of the major English web shops. Of course, the company earns a small percentage of every sold item. When a costumer finds a price drop on the website, they will click on it and being redirected to the shops page. When the costumer buys, the product Adhere will get a small percentage of money, it's all quit Complicated.
About some spare time activities
I'm not into museums, when I want to see something from a city I don't want to be locked up in some sort of "dusty place" with a lot of stuff I don't bother about. I mean, when I want to see old armour from knights, I would go to a castle. And if I want to see paintings, I would go to the Louvre (because the building is very impressive). However, if you like it, I won't stop you. I just like to wander around in a city and see real life and the buildings instead of painting.
But yeah, enough negative stuff about the museums. We visited some sort of museum with old skeletons of dinosaurs and many other old animals. It was all right, but I'm not sure if the dinosaurs were real. You could touch it, and normally you aren't allowed to touch stuff that's billions of years old. But for real, let's stop about putting museums Under Pressure.
I Want To Break Free, and so I left the other Dutchies. Just in time before they were going to visit another museum. I went by myself doing what I like the most, wandering around. Just looking at the buildings and imagining myself how it was back in those days.
The most impressive building I saw, or what I think is the effort to mention, was the Radcliffe Camera. And now I'm Going Slightly Mad, because Camera doesn't mean the thing you can make photos with. No, we are in Oxford, and they speak Latin there and so Camera means room. Radcliffe is just the name of the designer of the building, mister John Radcliffe. It's an academic library, and it is a round building with a big dome on top. That was built in the eighteen century.