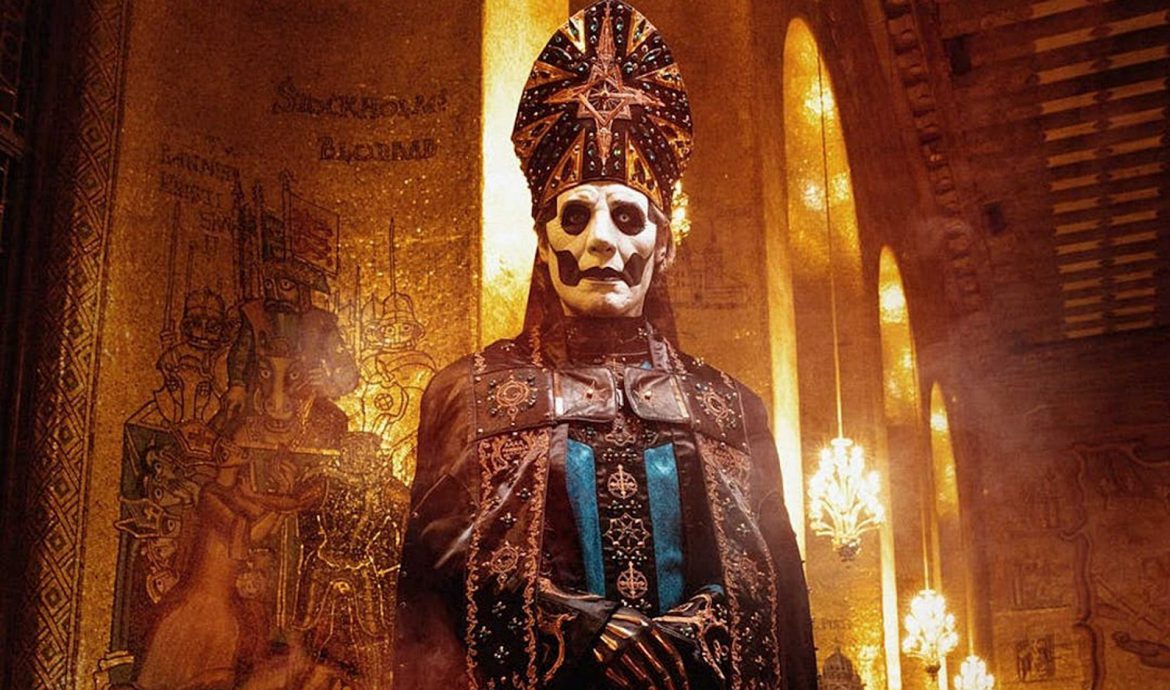 Ghost (previously known as Ghost BC) is hitting the road in 2022 with an extensive US and European tour. With the hype of the fans, I got excited about Ghost again and made my top 10 list of the greatest Ghost band songs ever made.
Ghost is a Swedish rock band that was formed in 2006. The band's music is a unique blend of classic rock, heavy metal, and occult imagery. They are known for their theatrical live performances, which often feature elaborate costumes and stage sets.
Ghost's lyrics often deal with themes of Satanism, the occult, and horror. However, the band has stated that they do not promote any specific religious or philosophical beliefs. Instead, they see themselves as storytellers who use these themes to create a unique and compelling musical experience.
PAPA EMERITUS IV
Ghost finished their big tour cycle for the Prequelle album, the second Covi-19 hit. As tradition, the end of the cycle means a "new" lead singer. Cardinal Copia was promoted to Papa Emeritus IV and fans started to get excited about the new album.
The creator and singer behind Ghost, Tobias Forge, finally got some well-earned rest and started work on the new album, which will be released later this year/ early next year.
Apart from a Swedish TV show appearance, things stayed calm around Papa Emeritus IV. Late 2021 saw the release of the single Hunter's Moon. The song was created for the movie Halloween Kills and is a great song!
MY TOP 10 GHOST SONGS
Ghost had, without a doubt, a massive break within the rock genre over the past decade. Tobias Forge created this hard rock, doom, classical metal and pop band that took over the world. The theatre aspect of the band and the darkness of the different personas are captured within the music and the live rituals of the band.
For my top 10 I picked my favorite Ghost songs. Songs originally written by Ghost, that is. For this list, I excluded covers, for example If You Have Ghosts. The order is on albums or EP's so not necessarily the top 10 in order of liking. Let's get this top 10 started!
Con Clavi Con Dio – Opus Eponymous
Deus Culpa, a baroque organ intro, sets the tone of what is to come on Ghost's debut album, Opus Eponymous. A groovy bassline opens Con Clavi Con Dio, with a high-pitched organ and heavy guitar following suit. The song also shows how clever Tobias Forge is when it comes to the title and lyrics. The title translates roughly to With Nails, With God. Something that is referenced to later in lyric form: "Our conjuration sings infernal psalms and smear the smudge in bleeding palms."
Combine the smooth sound of guitars with keyboards, bass and ghostly vocals, and you feel truly at home in a church. Con Clavi Con Dio combines 70s metal, with an eerie sound that just captures early Ghost. It might be one of the best Ghost riffs ever made. The song is one of my favorite Ghost songs ever written, but you might hear that often in this list.
Ritual – Opus Eponymous
Ritual is the perfect song to have people experience Ghost. Together with the song mentioned above, the standout song of Opus Eponymous. The song takes influences from Black Sabbath and Blue Oyster Cult and just sounds great.
The live shows became Rituals and Ghost was able to bring amazing melodies to songs that can be viewed as gory, satanic or just evil. Whatever you see it as, Ritual is a kick ass song that shows that "evil" music can sound great. The song offers the bands' signature dual guitar dynamic in combination with Tobias Forge dark vocals.
Ghuleh / Zomie Queen – Infestissumam
Seven-and-a-half minutes long, Ghuleh / Zombie Queen is by far the most ambitious song of the Infestissumam album. The song unfolds with a sorrowing piano line that meets the voice of Papa Emeritus II. Ghuleh / Zombie Queen shows the vision that Tobias Forge has for the band and the direction it was going in.
The song captures a multitude of styles, with 80s classic rock, 70s and 1960s psychedelia. It's a ballad you would expect from the likes of legendary rock band Queen, and it just works for Ghost. Ghuleh / Zombie Queen is by far one of the biggest compositions made by the Swedish band. Put that together with it just being an amazing song, and there are reasons enough to have it featured on this list.
Year Zero – Infestissumam
By far one of the best showcases of the band's dark sound. Perhaps even the darkest song in their rich catalog: Year Zero. I even saw people call it the hymn to the Devil himself. Any song that opens with a powerful dark chant ('Belial, Behemoth, Beelzebub, Asmodeus, Satanas, Lucifer') will grab any listener's attention.
Once again, Ghost demonstrates how melody and double guitars can blend to one perfect tune with a beautiful riff. Mystic vocals with dark lyrics join forces in this Satanistic song. Year Zero is a fan favorite and when you visit a ritual you will hear it, evidently it is a great song, that will get you hooked from the start!
Cirice – Meliora
Another fan classic that perhaps shouldn't have been released in the form it did. Cirice started out as a nine-minute instrumental song. However, it went under a metamorphosing phase in which it was shortened and filled with lyrics to become the song we know and love today. The song also made Ghost more of a mainstream artist and earning them the 2016 GRAMMY for Best Metal Performance.
Cirice became the main single of the Meliora album, and it is easy to understand why. A mighty riff and bone chilling opening melody captures what Ghost is all about. Thus without a doubt, this song is one of my favorites from the Swedish band Ghost.

He Is – Meliora
He is might be the song that will make you like Ghost whether you want to or not. This almost ballad type song can bring the Luciferian ideology in a way that is listenable to the masses. It is in an incredibly well executed song.
The concept of the song dates back to 2007, but Papa Emeritus III performs a classic song that perhaps pays homage to giants like Journey and Kansas. Meliora is filled with amazing songs, but the album will always be known for the hit singles.
Square Hammer – Popestar
A theme starts to appear now, where Ghost songs become more commercially successful and popular. It redirects Ghost into a new direction, showing their more pop (hard) rock sound. A true sing-along classic, loved by fans and critics, Square Hammer.
It is a mega song! Square Hammer offers amazing riffs, guitar solos, vocals, and a quality video clip. The song became number one on the Billboard's Mainstream Rock List, and it is well deserved. I love this song's hooks and the sing-along aspect of it.
Rats – Prequelle
With rats, people were generally saying that Ghost went back to its roots. The heaviness of the Prequelle lead single was to be a one-off nod to the past as the album became more rock. Rats offers listeners a song about the death plague (kind of ironic in hindsight) and is the perfect bridge between old and new Ghost.
With Cardinal Copia on lead vocals, we went into an even more theatrical direction than before. Generally, it is a hit song with a hefty riff, great guitar solos and a catchy hook. It is a perfect concert opener and one to definitely add to your playlist.
Miasma – Prequelle
I honestly love this song! Yeah, there are no lyrics or singing in this one, but it is a Ghost song so it made it on the list. Deal with it. By now, you must think Ghost is some Satanist band that make metal albums. First, you were wrong, but secondly this song is the complete opposite. It is the first song that doesn't contain any lyrics, undoubtedly, it is however a classic Ghost song.
Miasma is a fast beat, 80s gaming vibe progressive rock tune that has it all. Great dual guitars, solid bass and a small rip-off from Beat It. An incredible saxophone solo brings the song to a climax and all things considered, it is a must-listen, even if you don't like Ghost.
Kiss The Go-Goat – Seven Inches Of Satanic Pain
We reached number 10: Kiss The Go-Goat! Prequelle specifically is filled with 80s arena rock anthems, although with Kiss The Go-Goat, Ghost travels even further back in time. With this 60s themed psych rock song, Ghost brings a great and cheesy song with some Satanic aftertaste to your ears.
I love this song, even if it is cheesy, as uch as it's a well written song, that has a great combination of instruments and last but not least: it rocks! I hope with the new album, Ghost is able to bring back some of this style.
GHOST TOUR 2022
Basically, Ghost is about to get back on the road after almost 2 years of no touring. The new tours will be the first full on shows with Papa Emeritus IV. After the cardinal transformed into his new role as Papa Emeritus IV in Mexico in 2020 he hasn't been able to show his robes in front of a live audience.
Finally, the US tour together with Volbeat will kick off on January the 25th in Nevo, and both share the road for 26 days across the country. It will not end there for Ghost (Swedish band), as they are planned to tour throughout Europe in April and May 2022.
That said, I truly hope to catch Ghost on the road this year, since these days nothing is a guarantee, so if you can catch Ghost on the road, I do highly recommend going!