It was December 2015 in Birmingham, United Kingdom and I saw Whitesnake for the first time live. I loved the records and I was sold on the live show. To see front man David Coverdale live with his amazing band is just a true must. One man on that stage will definitely catch your eye and that is guitarist Joel Hoekstra. His looks and guitar style are amazing to see. From that day I became a fan of his guitar playing. Now almost 5 years later I had the honour to do a video interview with Joel!
JOEL HOEKSTRA
Joel Hoekstra is a New York based guitarist with Dutch roots. Being the son of classical musicians Joel started out playing the cello and piano. However after hearing AC/DC and especially Agnus Young he was inspired him to pick the guitar. 
He performed on the Broadway musical Rock of Ages and even has a cameo in the movie with the same title. In 2008 he joined Night Ranger and performed with them on several albums. During a summer tour with Night Ranger and Foreigner he filled in for Mick Jones who had fallen ill on several of the Foreigner gigs whilst still playing with Night Ranger as well. In 2010 he joined the highly acclaimed Trans–Siberian Orchestra who are famous for their big production live shows.
Always on tour
In 2015 Joel left Night Ranger to join the mighty Whitesnake, with whom he has released 2 studio albums and one live album. He also released his side project Joel Hoekstra's 13 debut album Dying To Live in 2015 which received high reviews by the critics and fans. Next to that he also performs with the Trans-Siberian Orchestra and global super star Cher. 
Obviously during this pandemic touring is not happening. That's why he is now busy with his new solo album, side projects and online guitar lessons.
INTERVIEW
As a guitarist you have played for bands including Night Ranger, Trans-Siberian Orchestra and the Rock of Ages Broadway show. However as a Whitesnake fan I'm curious to know how you ended up with the Whitesnake gig 6 years ago?
"Yeah I think it has been a little over 6 years now. They, Whitesnake, needed a guitar player and I knew Reb Beach already from when I was joining Night Ranger (back in 2008). Reb was actually doing the gig at the time, so we were on the phone together and stuff. Night Ranger and Winger later shared some gigs so we knew each other a bit."
"So I sent Reb some video links to pass them on to David Coverdale and I didn't hear anything at first. Then I thought of my friend Phil Carson who is the manager of Foreigner and I bet he knows David and could do a good word for me which he did and he got me the audition. Things turned out well from that point."
Immediately after joining Whitesnake you had the opportunity together with the band to alter and add parts to the classic Deep Purple songs for The Purple Album. It must have been surreal to work on these classics with the original voice of these songs?
"It was a great way to start out with the band. Just joined right away and went into the studio recording an album, so that was fun. I just transcribed everything from the originals and listened to them a lot just in case David would ask like hey could you quote this bit from the album."
"For the most part I just jammed the songs and came up with ideas which I tried to give David as much as possible. He very much wanted us to make it it's own thing and he didn't want us to re-record the Deep Purple versions note for note, like what's the point of that right."
"We tried to have our own versions and that was more challenging than most people would realize. There is really only one guitar part on all of those songs and Reb was covering that already. So by the time it was my turn to record, Reb already had the main riff down. I would come up with a second rhythm part or something that would be cool or different or just double Reb. But yeah, it was a little more creative than people realized and it was a great way to start with the band."
Did you record the album together as a band or separate from each other?
"I think Michael Devin and Reb played with Tommy Aldridge when he recorded, but that was prior or right after I joined Whitesnake. I just joined and I just needed a little more time and listened to the songs and digest it all before recording the album."
The first live show for you and Michele Luppi on keyboards with Whitesnake was Pend Oreille Pavilion, Airway Heights in Washington, USA. Was it a nervous gig or did David Coverdale and the band make you feel at ease? From the outside it looked like the crowds around the globe and the band accepted you straight away and that you fit right in.
"Yeah, I mean there is always something special about the first show with a band. Like a little anxiousness, I would be lying if I say it wouldn't be a little nerve wracking but in general I had a good time with it. David is great about making us feel comfortable and building us up and not making me feel insecure or tearing me down. I always appreciate that about David, he is a wonderful boss to work for he is a great guy. Awesome, love working for him!"
"We got a variety within the band with Tommy and David being these rock legends kinda guys and then guys like Michelle and me who are a little more upstart trying to get our names out there. Somehow we come together and we all have different musical backgrounds and you put it all together and we got this cool dynamic."
"Our common band is humor and we all get along great on the road. We have lots of laughs, we laugh a ton as a band and it goes a long way man. And David too got an amazing sense of humor. If you follow him on Twitter, you will know. He is so much more about the laughs than anybody will ever realize until you join the band. When you join the band it feels like he is so funny and you know and he enjoys having a good time. That's great, that comradery about being in a band and that feeling is a cool thing and makes it not just a "job" as people say it right."
After extensive touring (with, for example, The Purple Tour in Birmingham and the Greatest Hits Tour in Tilburg where I saw you perform on) there have been some guest appearances of former Whitesnake members, that must be an amazing feeling?
"Oh you saw Adrian van den Berg sit in right? I'm a Dutch man myself, go Dutch! But yeah since I joined the band we had Adrian come up a couple of times and so did Vivian Campbell. I think Vivian joined once, I can't completely remember, but he joined on Still Of The Night which was awesome. We have had Bernie Marsden on for Here I Go Again and yeah it's just so cool. What is not to like about that? I already play with these amazing musicians and then you bring up one more. Hey , it's great and I feel honoured. Moments like that are always special"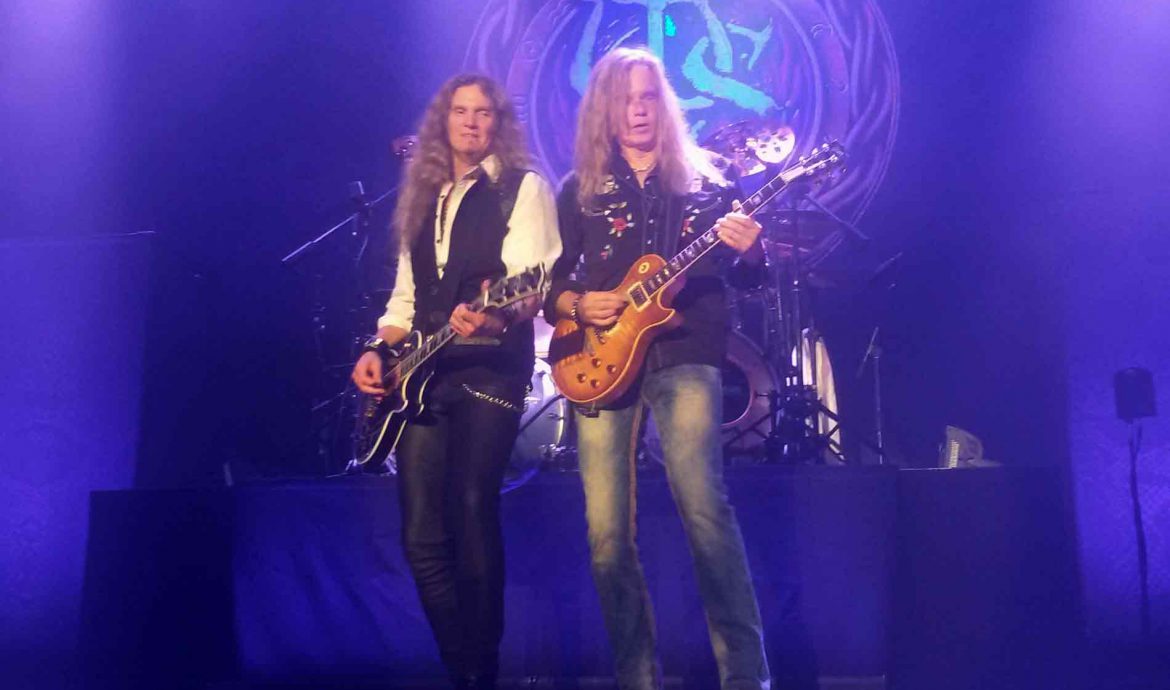 After the touring work began on the latest release of Whitesnake: Flesh & Blood. How was the process of writing with David Coverdale and creating an amazing new album with these top class musicians?
"Most of the music was put together with us being together with Reb, myself and David of course. We have a band house with a studio built into it and it's called Hook City. So a great place you can stay in. David usually stays there when we are recording so you got this communal band vibe going. When I would wake up and David would be at his desk and he writes on this little nylon string guitar where a lot of his hit songs come from and he has this idea and what can you come up with."
"It's really quick and we had fun. I was already in the band a few years so if I just joined and barely knew David it would have felt weird, but I already toured with him for a while. So we just had a good time. And he would be very honest with me cause we knew each other so if I played something he didn't like he would just say oh no not this one."
"So what about this one and it was "yeah, sold" and the same is with Reb. And sometimes with the both of us, we would both be sitting there plugging an electric guitar in or just grab an acoustic. We usually write around this little desk and Reb and I would go to the studio and demo it up and play it for David to see if he likes the form. We would all do that with mini drums before Tommy, so just a basic drum beat for the form. David would listen to it and say oh cool and sign it off on the arrangement and send it to the band. From there it's pretty normal, drums would go down first, then bass and guitars and vocals."
My personal favorite of the album is a song you co-wrote with David Coverdale called After All. It is a beautifully written power ballad, as Whitesnake is known for. Could you tell me more about how this song came together?
"That is actually the first song I wrote with David, oddly enough. I went out there to work a little bit on the Unzipped album at the time. He had me come over and we worked on some acoustic stuff together and he had this idea and where would you go with that. I think I may have written the intro and the instrumental section."
I'm pretty sure he had written that B-section, but definitely the A-section with the beautiful fingerpicking is actually his general idea and he gave me that. So I built it thinking it would not be for an official album, but for Unzipped. Then David, I think, liked it and stuck it to a side for Flesh & Blood. I was very surprised but it's very cool."
"It's odd that the first song we wrote is this acoustic song, but then again you can't make some of the stuff that happens in the music business up. You would imagine the first song you write with David Coverdale would be like Still Of The Night. You can never tell what happens in music, it's funny. I think it's a great song and David considered it as new territory for Whitesnake and he never wrote anything like it for a Whitesnake album. He thought it was cool. Like always David has so much to do with the sound of the album and he makes the judgement call. I felt really honoured when he included the song."
After 2/3 years the album was released and was loved by fans and critics around the world. It had some hits with Trouble Is Your Middle Name and Shut Up And Kiss Me. It must have been a great feeling to have released the album and go on tour with the new material.
"Yeah, it really was great to get the album out there. It was a period in which David was getting knee surgery and it just shows how much of a trooper he is, recovering from surgery and working. But it was phenomenal working with him and just being a small part of the band's history."
With Reb Beach and you on guitars I believe the band has a very structural way of playing. The both of you are different in style and onstage performance, but that makes it all come together. How are the dynamics between Reb Beach and you? Who decided who plays which solo or part of a song on a record or live show?
"Reb is the band leader and he basically picks out what he wants to play and I just do the rest. I'm pretty easy, whatever he wants to play that is fine by me. There is so much room in Whitesnake to play lead guitar that you have to be very petty to say "hey I want to play that bit". I get so much room to play in Whitesnake compared to probably any other band I ever played in, so anything Reb wants works for me. We get along great and I think Reb is a really good rhythm guitar player. Everyone knows he is awesome with his tapping style, but he is a really tight rhythm guitar player. That's why we like each other in that regard that we both love to play rhythm tight together."
"Everybody's got their different take in the music. Michael is much more 70s and very earthy and has the Led Zeppelin vibe going on. Reb nowadays has a little more Joe Perry going on in his take on movement and I'm going for it and just trying to keep everyone entertained. Tommy comes from the same school as me in that regard with movement, seeing his hair moving behind the drums. But somehow it all comes together and we are all there to support David, who really is a great frontman."
Next to Whitesnake we can see you perform with Cher and Trans-Siberian Orchestra. Especially with Cher (of whom my girlfriend is a big fan), it is a completely different vibe for a show, but I assume an amazing opportunity. Is it tough to switch between the different artists and what in these shows makes it fun for you?
"Well it's only difficult in trying to find the balance in the way of making all the shows. When things were slow for Whitesnake, David was having his knees done and that allowed me to perform with Cher at any time. In 2018 and especially 2019 when Whitesnake got busier it was pretty difficult to combine. Cher was great about that year and I only made about half her shows. I was on the road 285 days that year which was insane looking back at it."
"Especially thinking I will spend the rest of the year at home apart from January when we did some shows. It is only difficult in the schedule way and juggling between it all and making everybody happy. In terms of getting the material done, it's not hard at all. You just practise a lot in the hotel room. There is a lot of downtime so you get yourself ready to do the next gig. It's actually good for you because you keep playing the instrument, like this is coming up next and gets you ready for that."
Trans-Siberian Orchestra
"With Trans-Siberian Orchestra I've been for 10 years so I've done that tour a lot. It's very hard work, but I love it. It's a great bunch of guys and a group of fans and it is a tradition to do here in the States. So for me that is how I spend my holidays and it will be really weird not doing that this year. But I'm blessed to be part of it all and to have any of the opportunities I have."
When you switch between the different artists are there rehearsals or do you go straight on stage performing the set?
"I mean some of the times when I was subbed out and going in there would be no rehearsals at all. Just a quick little sound check with a few songs and boom you're back on stage again. Typically with Cher when there was a residency or tour starting we would have maybe two days of rehearsals. Whitesnake to begin a tour you rehearse for about one or two days just to "knock the dust off" as David says."
"With Trans-Siberian Orchestra it's a little different and we would rehearse for two weeks because it's only one tour a year. It is a little more complicated with the immense production with the full lighting, pyro and lasers and they got to sync it all with the music. Trans-Siberian Orchestra it's all about the show and not so much as a normal rock band but more like this massive production and that takes a different approach in rehearsal."
Does touring with a variety of different artists change your preference in guitar or gear?
 "It changes by the gig for sure. I mean I like to use a real amp if I can but with some of the logistics of doing the Cher gigs, because I was in and out of it so much, it was just better to go with a Fractal Axe FX."
"Same with Trans-Siberian Orchestra you can't really have amps on stage because they got a lot of singers which they are trying to preserve on a very long tour so same deal with the Fractal Axe FX. For Whitesnake I use Friedman B-100 heads and Marshall cabinets. I use the Fractal Axe FX with Whitesnake only for the delays and reverb and not for amp sounds. The amp sounds you hear are real."
Overtime you released a few solo albums and a side solo album with Joel Hoekstra's 13. How do these albums come together? Does it come naturally or over a longer period of time? 
"Every album has its own story. The instrumental albums all happened very differently, I mean my friend T.J. Helmerich put me together with Virgil Donati and Ric Fierabracci for the instrumental stuff. He was really the driving force behind those and the fact that T.J. could engineer that and work at the Recording Institute and Technology, which is part of the Musicians Institute in Hollywood."
"Then the acoustic one really was just writing a lot of that stuff sitting at home with an acoustic on the sofa. I thought I should lay this stuff down and arrange it and put some mandolin, some keyboards on it and add percussion and bass to it. So that's the story behind that one and Joel Hoekstra's 13 was Dying To Live and made me want to make a rock album. I was getting more well known, because of playing in rock bands like Night Ranger and Whitesnake and then people were like "what is your album". Then they would hear these instrumental ones then didn't sound like the bands I was in."
"So I just wanted to make a rock album and it was fun cause it gave me the opportunity to do all the writing of music and lyrics as well.I just turned in the second album, the follow up and that will be out in early 2021. The album will have a very similar vibe as the previous one."
What can we expect in the future with new solo material or for example with the quarantine band Echobats and the new project with Michael Sweet and Nathan James?
"Yeah Echobats is really Tony Harnell and Matt Starr talking about doing a project and then we pulled in James Lomenzo cause we all like James and he is a great player. So we Tony about 8 song ideas and Save Me From Loving You is just the first one to be completed."
"We all thought this Corona would be fairly short when it first started happening and we thought let's put it out now when everyone is all at home. It's like a nice feel good song so that's the story there. So in terms of what the future of that project is I don't know. Maybe we release a bunch of singles, maybe an album or maybe nothing."
Michael Sweet & Nathan James
"In regards to the deal with Michael Sweet and Nathan James, yeah we signed a deal for that to collaborate and I love Michael he is such a cool dude. One of the hardest working guys in the music industry with so much positive energy and talent. So looking forward to working with him. Nathan and I know each other from Trans-Siberian Orchestra where he was the vocalist of I can't remember how long but something like 2 or 3 years. So we know each other from there and I just gave him some ideas for the new Inglorious album as well and I gave him one idea for the first Inglorious album."
"So we kinda worked together a bit with cowriting already so we always got on great. He always was a great guy to me so curious to see where this leads too. There is a lot of potential for sure. We will see what comes from it. I go with these things one by one and just do my best and I'm definitely excited to work with Michael. We just got closer and closer as time went by and I got a lot of respect for him. He is a great guy and very talented. I do not want to undersell his talent cause he really is a very talented guy. I just like how he is a very positive guy and makes the most of everything. We both are pretty similar in that regard with working hard and pushing to the maximum and I dig that."

Your living is made by creating and performing music. The Corona virus must have been a really tough pill to swallow. How tough has this outbreak been for you personally? Is it a manageable situation for, for example, another few months?
"It depends on what viewpoint, cause I'm doing fine financially. I took the beginning as an opportunity to catch up with my kids, because I was away so much last year. So I just decided not to worry too much and just play. It's probably like a much needed break and this was when everybody was still thinking it would be a month or two."
"So I spent a lot of time with my kids the first two, three months of it and then I did some sessions here and there. But then I decided to start going for it. I've been teaching private lessons on Skype and currently have 32 students in a week. Next to that I've been teaching masterclasses for Rock and Roll Fantasy Camp and Rock Stars of Tomorrow and they do very well. I've been doing a lot of sessions, because everyone is recording right now. So I get a lot of people hitting me up for either a guest solo or just being a guest on one or more songs. The sessions have been pretty good."
Other projects
"Obviously finishing my own album and getting the Echobats song out and doing these quarantine jams. We just covered Stormbringer for LiveNation Six String Salute with Dino Jelusick, Virgil Donati and Tony Franklin."
"What else, there was this 1 minute jam with Jen Majura and Niko McBrain of Live and Let Die, lots of stuff like that. I did Bumblefoot play a long song, just keeping myself busy. I have been very busy and making money. It is just very different, the layout of it is very different. It would be nice to go back out on stage again. I think I will probably cry the first time that happens. It's gonna be pretty emotional to get back out there. But in terms of how things are I can't complain."
"There are so many people that are going homeless, losing their business so I can't sit here and complain about my life. It's not so bad for me, it is just different. I definitely miss touring though. Having the comradery of the band and missing David and the guys in Whitesnake and missing my TSO band members. Those are all people I'm very close with, those are my friends.There is this Whitesnake band app and David is in touch with us basically everyday. We text and he is great in keeping the energy alive within us all and that is a great thing."
Do you practice or play the guitar as a daily routine or still with love and passion?
"I mean right now with the teaching thing I play five days a week 6 hours a day. Then I will have a break. If I have a session or cut a song or just a cameo I will do that. So yeah I play a lot of guitar right now. On the 2 days I'm off from teaching I will just maybe cut a song. Or work on a bigger project. Just doing it for like 2 or 3 hours a day.
"Maybe if there is a day that there is nothing to record I will just take the day off and not touch the guitar. Just so I'm not completely sick of it. But I'm playing a lot these days. It's nice to have the sense of purpose and make a living. There are people at home when I can work again and I can keep playing and keep my identity in music."
Playing is fun
"The teaching helps you look at it in a different way. You need to analyze the thing you are doing. Like "what do I play there?" Cause you stop thinking about that when you perform and being in a band. It brings you back to what you play. So it has been good for my playing to go back to teaching. It helped me clean some stuff up. It forced me to play as many hours in a day. By the time you are done you will feel it in your hands."
"Usually on tour the work is more about the traveling. Getting yourself settled in a new hotel everyday, going to the venue and packing up there. It's more about all that and you get more pay for the travelling than for the play. The playing is fun and easy."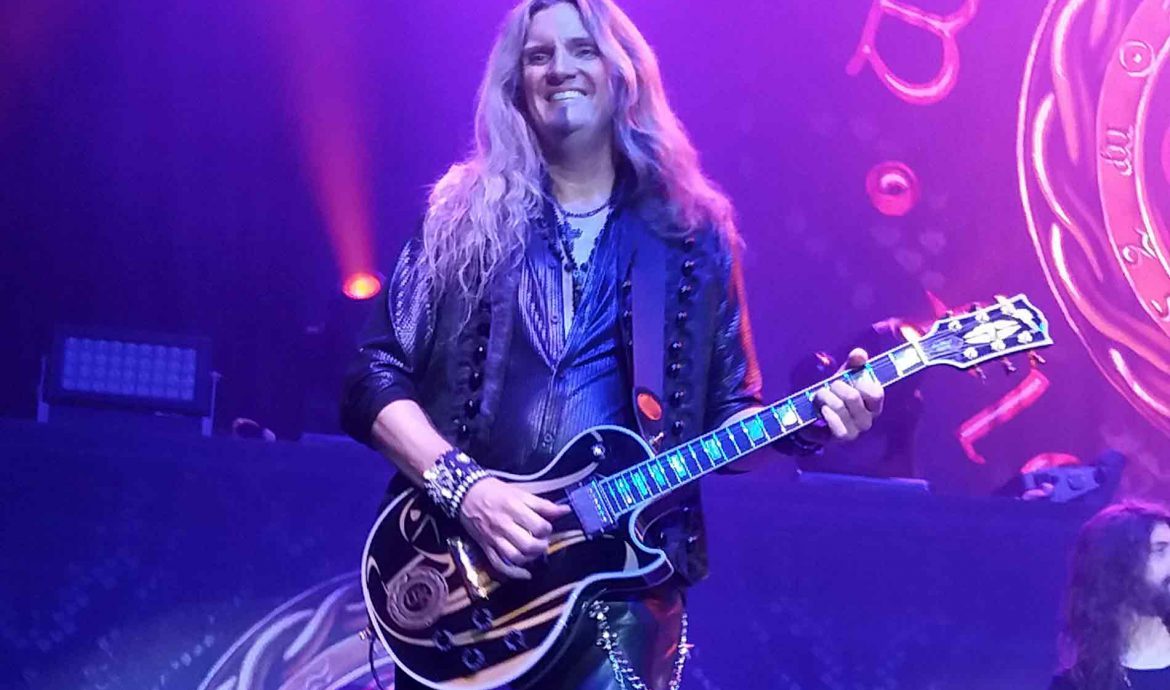 Let's end on a positive note. After touring with so many bands and artists, what are some of the most memorable onstage or studio moments?
"That's a really hard one man, I mean no not really. I'm just lucky to have all these opportunities and that is the bottom line. So yeah I don't think I can necessarily pinpoint certain moments. It's like climbing a stairway, like the stairway to heaven."
"Every step on the way was amazing and I was always really busy and very grateful for all the opportunities. These opportunities just seem to get better and better. God willing that will remain. We will see what the world will be like cause right now I really don't know. There are a lot of unknowns at the moment and that is the hard part. But you know it's okay."
"Let's say a giant rock came falling from the sky and crushed me. The pancake under the rock would say "I had a good life". Honestly I look at it like I already did a lot of things. Things that I shouldn't have been doing in my life just out of God's grace. The ability to be raised right and work hard and have some luck."
INFORMATIVE LINKS
Did this interview make you a Joel Hoekstra fan? Check down below some handy links to read more about Joel:
Website
Online store
Facebook
Twitter
Instagram
Also don't forget to follow As Lightning Strikes on Instagram, Facebook and Twitter!
MORE INTERVIEWS
Read more interviews here!